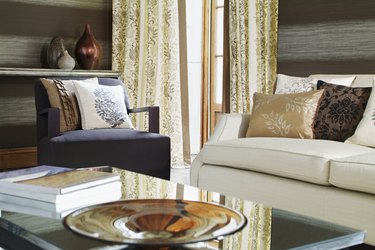 Although the height of a coffee table comes down to personal preference, there are some industry standards based on functionality and style. Most premade coffee tables range in height from 16 to 18 inches above the ground, but a height of up to 21 inches is not uncommon. Determining factors when choosing the right coffee table for your needs include the height of nearby chairs, sofas and televisions, as well as what the table is used for on a daily basis.
Not Just for Coffee
A coffee table should generally be about the same height as adjacent chairs and sofas, with leeway of one to two inches below or above the cushion height. This puts drinks and food within easy reach of those seated. Slightly higher tables are convenient if family members often use a coffee table for working on a laptop computer or doing homework assignments. Since many living and family rooms have televisions, the height and design of a coffee table mustn't block the view for those seated behind it. Some designs include adjustable tabletops, which creates versatility, functionality and style options.
---
Wendy K. Leigh is a travel writer and photojournalist from Seattle. She is the Editor of Islands America, a travel website for visiting islands within the United States. She also writes about home design, food and historical architecture. Leigh holds a Bachelor of Arts in English from the University of Washington.