A coffee table is not strictly the utilitarian piece of furniture it once was; it can add beauty and complement a room's design. Choosing the perfect coffee table for a space can pull a living area together, add interest to a room or support a focal point. By contrast, selecting an inappropriate coffee table can create a distraction or a disconnect in the room, and make a room feel uncomfortable or stressful. Thoughtful consideration of the space and how the table will be used is critical when choosing a coffee table.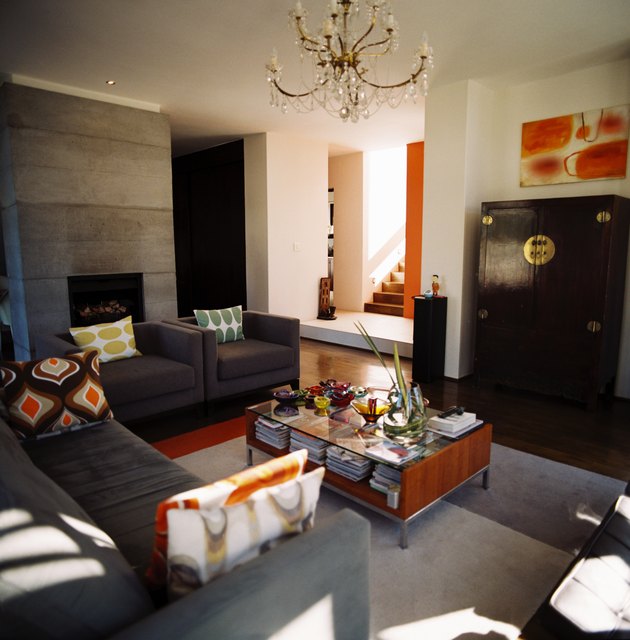 Step 1
Determine the coffee table's purpose. Choose an upholstered or ottoman-style coffee table for lounging or providing a foot rest. Select a coffee table with space below if you plan to eat on it or play games.
Step 2
Think about the dimensions. Any coffee table should measure one-half to two-thirds the length of the sofa it will sit in front of, according to "Canadian House and Home." Also, the table's height should be comparable to the seating height, though most coffee tables are 16 to 20 inches high.
Step 3
Consider the amount of space available. A glass coffee table with clean, simple lines works well for a small living room since it will not take up any visual space. Alternatively, a large solid-wood table provides the weight and substance needed to help anchor an overwhelmingly large space.
Step 4
Choose a shape. A square table provides the most surface area but requires the most floor space, while a round coffee table can create a sense of flow in a small space. A rectangular table works well in most rooms.
Step 5
Evaluate existing furnishings, and select a coffee table of a similar style to create continuity in the room.