Things You'll Need
Bedframe

Chairs

Large boards

TV trays

Cardboard boxes

Old doors

Window shutters

Wooden saw horses

Barrel

Sheet of plywood

Ironing board

Cinder blocks
Tip
Display as many items as possible on tables to avoid a cluttered look. Do not just throw things in boxes for customers to sort through.
Warning
Make all tables sturdy enough to hold your items. Avoid displays that might fall or injure someone.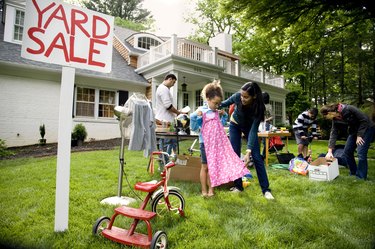 During tough economic times, many people turn to selling items they no longer use. Garage sales and yard sales provide a way to generate some cash and eliminate unwanted items. If you are short on tables to display the merchandise, use your imagination and creativity to construct some makeshift display tables. Construct tables from ordinary objects found in your garage or workshop. When covered with brightly colored table covers, they work well as substitute tables.
Step 1
Do an inventory of the items for sale to determine how many tables or surfaces you need for displays. Make your own tables out of boards supported on chairs, or a stack of two or three cinder blocks. Cover these with large beach towels to disguise them.
Step 2
Place a sheet of plywood on a metal bed frame for a lower display. Cover it with a sheet or bedspread before placing items. Use old TV trays with legs to display smaller items such as jewelry or unbreakable plastic dishes. If you have a set of four TV trays, group them together and display similar items. Old pieces of fabric make good covers.
Step 3
Use wooden saw horses to create tables with an old door or window shutters. Space the horses far enough apart to support the doors or shutters. Cover the door with an old sheet. These makeshift tables are strong enough to display larger items such as an electric mixer, toaster, blender or coffeemaker safely. The wider tables also work well for displaying sporting equipment or tools.
Step 4
Turn large boxes upside down to use for folded clothing or shoes. Turn a 50-gallon barrel upside down, cover with a round, plastic tablecloth to display items that require a sturdy surface such as glassware. A sturdy old ironing board works well for displaying magazines or books.
---
Linda Woolhether is a retired teacher born in Texas, but now resides in Wyoming. Her career as a reading and writing teacher spanned 20-plus years. She holds a Master of Arts in education in curriculum and instruction and is experienced in various types of writing. She was successful in writing several educational grants while teaching. Completing a novel is presently her goal.