You gave your bedroom a makeover. You have newly painted walls and new bedding, and now you hate the way your old laminate dresser and nightstands clash with your new room. Luckily, there's no need to throw out laminate furniture that's still in good condition. Instead, you can upcycle laminate furniture with paint or decoupage. The key to success is carefully following each step so your finished product looks just as good as the rest of your redecorated room.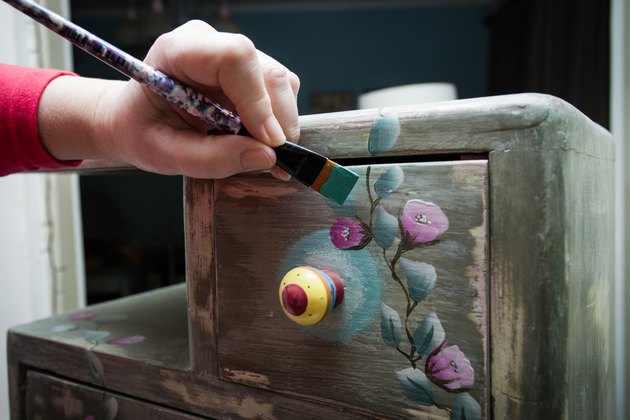 credit:
cokacoka/iStock/GettyImages
Prepping/Priming Laminate Furniture
The first step in any refinishing project is to thoroughly check your furniture for any residue, such as pieces of tape or glue. Gently scrape these off with a paint stripper, being careful not to damage the surface. Next, place a drop cloth around your furniture and remove all drawers, placing them on a separate drop cloth to prep and paint.
Wash every surface thoroughly and let them dry completely. Because laminate is a picture of wood that has been glued on to particleboard, it can't be stained. And, you must carefully sand the furniture for your paint to stick. Sand enough to create some texture and remove the shine, but don't sand the surface off. Wipe the laminate clean with a dry cloth.
Before you can paint, you must also prime your furniture. Don't skip this step, as priming your furniture will seal and prep the surface for the paint. Once the primer is completely dry, which could take several days, gently sand the surface again. Remove the dust with a dry cloth.
Painting Laminate Furniture
It's finally time to paint! Latex paint is your best option for laminate – you'll continue to have durable furniture and a smooth finish. Begin painting with your roller and use your brush to access any hard-to-reach places. After you've finished painting, let the paint dry completely before applying the second coat. Refer to your paint can for specific instructions on drying times. You may need three coats of paint, depending on your personal preference.
Once the paint is dry, you can reassemble your furniture and begin to use your drawers. However, paint takes approximately 30 days to fully cure, so be careful about placing objects on the surface as you may scratch or peel your new paint.
Prep your furniture as described above, and fill in any chips with a spackling compound. Use a plain piece of paper to trace the shape of your furniture, then use your template to select the right size images to cover your furniture. Make sure you select a paper that will decoupage well. Thin paper, such as newspaper or rice paper, will wrinkle, and inkjet will smear in water. Cut your images out and set them aside.
Decoupage Laminate Furniture
Using household glue, paint a section of your furniture with a foam brush. Quickly dip your paper in water so you can easily apply it to your furniture. While the glue is still wet, place your images on the furniture. To prevent the paper from tearing, make sure your hands are wet and use a wet sponge to remove any excess glue, water or air. If you notice air bubbles during the first hour after application, gently smooth them out with wet fingers. Repeat this process until you've completed your project. Let it dry overnight. Once dry, use a sharp knife to trim any overlapping images. To seal your decoupage, use a foam brush to apply several coats of acrylic polyurethane, spacing each coat one hour apart.