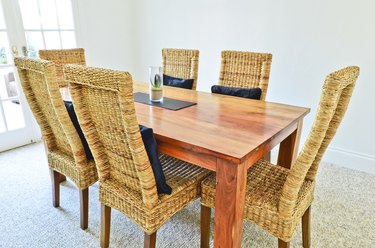 Woven seagrass furniture helps create an exotic yet easy-living atmosphere, but to keep it looking and smelling fresh, and in good repair, you need to give it some special care. This type of furniture is more suited to indoor use because of its weathering tendencies. Learn to maintain and protect your seagrass furniture for years of good looking usefulness in return.
Sea Here
As the name suggests, seagrass started life under water. Dried seagrass, however, succumbs to rot if it's routinely exposed to rain or other elements, making it better suited to the indoors. You can take it outside temporarily, though, to clean it. Spray it with a garden hose to remove dust, and then place it on an old towel or sheet to dry in a shady area. Tilt tables and chairs by placing a rock or low, upturned container under one leg or foot, and then another after several minutes to help water drain in different directions from the weave. Bring the furniture back in as soon as it's dry.
Wipe Your Rows
For daily cleaning, simply wipe seagrass furniture with a soft, dry cloth, in the direction of any rows rather than diagonally, which can force dust under the woven material. Dust and debris that's left to accumulate grinds into the furniture fibers, causing unnecessary wear and dirty discoloration. A vacuum cleaner with a soft brush attachment helps dislodge and remove any soil from between the weave.
Not a Sunbather
When you keep your seagrass furniture inside, it still may not be out of the sun. If it sits in a sunny area near a window, for example, it's subject to fading. You don't have to be overly fussy, but by closing the window treatments when you're not in the room, you'll prolong the pieces' good looks. Use a coat of clear varnish to provide extra protection from fading.
Sit at Attention
The pressure caused by your feet when you stand on a chair, for instance, is much greater than that of your tush. Your seagrass furniture is not sturdy enough to use as stepping stools. Never allow children to climb, jump or kneel on seagrass furniture. Pressure from feet, knees and any other bony body parts cause the fibers to stretch, creating bows or dents.
Doctoring Damage
Repairing seagrass furniture can be tricky. Weave tighness, for starters, must be the same throughout or the repair is quite noticeable. Although tape comes in handy to temporarily hold loose, wobbly joints, worn joints eventually need to be replaced. This requires a trained hand for stable, good-looking results, and to retain value and quality. On faded or discolored seagrass, a few light spray paint coats, table place mats and seat cushions not only give it a new look, but help to preserve or protect your investment, making it last longer.
---

Lorna Hordos
Lorna Hordos is a home-flipping business owner and freelance writer. She writes friendly, conversational business, home and lifestyle articles for Bizfluent, azcentral, Daltile, Marazzi, Lowes, Philips Lighting, WordPress.com and numerous other publications.