Things You'll Need
Adjustable wrench

Screwdriver
Tip
Disassemble only those connected wall partitions that will be changed in the new configuration for faster reassembly.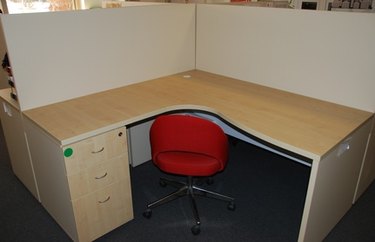 The Steelcase Company produces wall partitions in many finishes and designs. They are made out of durable materials to handle the assembling and disassembling of the cubicles as your needs change. The Steelcase Company's wall partitions are easily disassembled and rearranged to produce a different layout for to match the user's needs. Interlocking hinges slide apart to disconnect the wall partitions from each other. When moving from one location to another, the interlocking hinges should also be removed so that the wall partitions can stack neatly on top of each other.
Step 1
Remove shelving, furniture and electrical and telephone wires from the cubicle area.
Step 2
Untighten the interlocking hinges using the adjustable wrench.
Step 3
Life the cubicle walls upward a little to unhook the interlocking hinges on the wall partitions.
Step 4
Unbolt the interlocking hinges from the partition walls.
Step 5
Stack the partition walls on top of each other.
---
Amy Moore has been a writer since 2004. In addition to her freelance writing, she has worked as a paralegal, editor and freelance web designer. She has published articles in the "North Carolina Genealogical Society Journal" and the "Deseret Language and Linguistic Symposium Journal." Moore holds a Bachelor of Arts in English language from Brigham Young University.