Although it is possible to buy a mattress without buying a box spring or support system for it, many stores offer mattress sets that include a base or foundation for each mattress. The set is required by some manufacturers' warranties to ensure mattress longevity, but that's not always the case.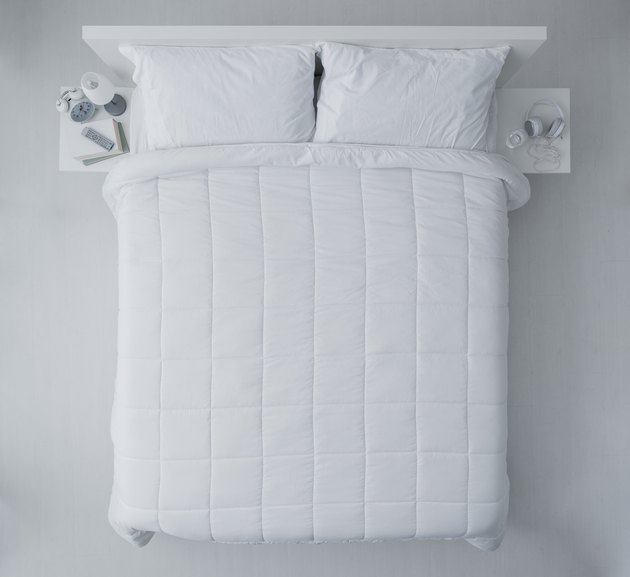 credit:
demaerre/iStock/GettyImages
Mattress sets are most common for classic coil-based mattresses, as these require firm support underneath to ensure comfort while sleeping. The bottom or base for a coil mattress set is usually a box spring, which is essentially a set of coils in a wood framework, covered in fabric to match the mattress. These also fit within traditional metal bed frames. Sets for more modern mattresses, such as a pillow top, may include a bed foundation instead of a box spring. As with a box spring, the foundation provides ample support for the mattress. Since many modern mattresses are a lot taller than the standard coil mattress, some sets include a low-profile foundation so the top of the mattress isn't too high for the average person climbing into bed.
A mattress set does not usually include a bed frame, but in some cases, a retailer offers a free or discounted frame along with a mattress set purchase.
Mattress warranties often include language that the mattress must be used atop a suitable box spring or other supportive foundation, otherwise the warranty is void. Some warranties insist that the mattress must be used atop the specific matching box spring or foundation included in the set, as this ensures a baseline standard for mattress wear under normal usage conditions. A new mattress resting atop an old, worn-out box spring will likely wear a lot faster than it would atop a new box spring, and won't offer a high level of support or comfort, thus the reason for a restrictive warranty.
Even though the pieces in mattress sets are designed to be used together, a new mattress can offer quality support without its matching bottom piece in certain circumstances. A mattress used on a platform bed doesn't require a box spring or foundation because the slats or platform of the bed itself serve as the foundation. If the mattress you're planning to buy is available for a better price without the foundation and you have a platform bed, there's no need to buy the foundation, too. Read the mattress warranty to ensure it's still valid for use atop a platform bed before making your final purchase if the warranty is important to you.