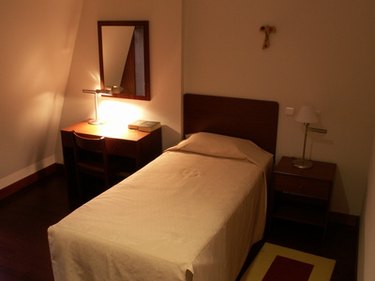 There are ways to put old foam mattresses to good use. Use them to make cushions as a cost-effective solution to purchasing high-density foam, as foam is priced according to its density quality and thickness. Repurposing the old foam is an environmentally conscientious decision–giving good quality foam a new use as furniture cushions prevents it from ending up in a landfill as bulk trash.
Chair Cushions
Custom cut chair cushions from the old foam mattress to the size of your chair seats. The thickness of the foam is just right for an upholstered armchair or a recliner. Make a pattern of the seat's outline by laying craft paper or an old sheet over each seat, and then trace the outline of the chair's frame on the pattern using a permanent marker. Cut it out and use it as a guide to cut the foam for each chair using an electric carving knife. Once the foam pieces are cut to fit each seat, cover them with batting and fabric to match the chairs.
Sofa Seat
After several years, sofa cushions can lose their form and elasticity, so another way to recycle an old foam mattress is to cut new cushions for the sofa. You can cut exact duplicates of the original cushions or one solid, long sofa cushion. Cover the new foam cushions in an exact matching fabric to the sofa or select a fabric that complements the existing fabric and add accents to the couch with matching throw pillows.
Bench Cushion
Use the foam to make a bench cushion. The thick foam makes for comfortable seating atop a wood bench or a large chest. Measure the width and length of the bench's top and cut the foam to that measurement. Sew a cushion cover using a decorative fabric that coordinates with the room's colors and accents.
Floor Seating with Arm Rests
Floor seating is common in Asian, African and Islamic culture, as it's considered a humble and simple way to sit. Maximize your use of the foam mattress by measuring the desired width and length of the seat, and the height and length of the back that you can get out of the old foam mattress. Cut out at least two armrests for the seating from the remaining old foam. The armrests can have a simple, rectangular prism form that rests on the seat while propping up the back. Sew covers for each of the floor seating pieces with durable upholstery fabric that dresses up the unit with an exotic flair.
Outdoor Furniture
When you can't find a good use for foam cushions indoors, make comfortable cushions for outdoor seating using outdoor canvas or vinyl fabric. Make outdoor cushions for chairs, benches, lounge chairs and couches. You can also replace the cushions in a golf cart, a boat or an RV using an old foam mattress that's in excellent condition.
---
Naima Manal's articles on health, diet, nutrition, alternative medicine, education, parenting, crafts, travel, home and garden and home improvement have appeared on various websites. Manal received her Bachelor of Science in biology/pre-medical studies from Molloy College in 1994 and has been a freelance writer, teacher and homeschooling mom since 1993.