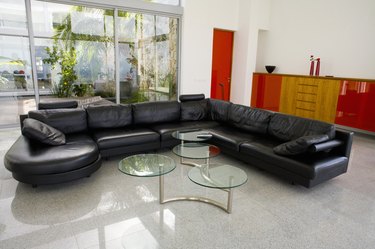 Deciding what living room set to buy should depend on several factors, including upholstery, framework, usage frequency, price and style. One of the styles for living room furniture is a sectional sofa. It comes in a range of sizes and combinations to fit almost any living room decor.
Sectional Sofas
Sectional sofas are suitable for homes with large living room spaces that can afford to give up a significant amount of space in a one-piece living room set. Sectionals come in a variety of sizes shapes and uses. Most sectional sofas range between 9 to 14 feet long. People with small apartments may find that placing a sectional in a cramped living room space will limit how you arrange everything else that room.
Sizes
Because sectional sofas range in shapes and sizes, it is difficult to specify how big a standard sectional sofa would be. Most standard sectional sofas include a right-angled design that include five to six cushions. It essentially joins the seating space of a loveseat to that of a standard sofa. To determine how a sectional sofa will fit, measure your room and simulate the measurements of the sofa in your house. Take into account the depth as well.
Differences
Sectional sofas can come assembled as right-angles, slightly curved right angles, as U- shapes and even as a set of conjoined recliners. Many sectionals will feature a full length sofa with a chaise attached to one of the end cushions, which allows you to put your feet up. Chaises will require even more room in your home or apartment. Sectionals could also be joined together by a table at the right angle of the sofa. The possibilities are wide ranging, therefore the measurements of the sofa and home are pivotal to ensuring a proper fit. Smaller sectional pieces are available as well to cater to apartment renters and owners, but sizes and styles again, can vary.
Other Considerations
The frame of your couch regardless of the size and design style is the lifeblood of the piece. Cheaper materials are particle wood and pine. Hardwood frames such as oak and maple are among some of the strongest. The wood should be kiln-dried as well to remove moisture, which can also prevent it from prematurely cracking. Fabrics can also range from the more expensive leather to economical but practical choices, such as microfiber, wool and polyester blends.
---
Living in New York City, Nicholas Briano has been a professional journalist since 2002. He writes for "The Wave," a community weekly covering the borough of Queens. Briano holds a Bachelor of Arts in journalism from Brooklyn College.