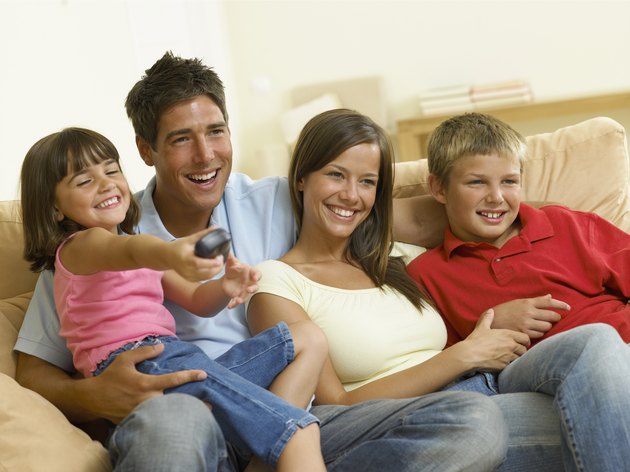 The 42-inch Panasonic TH-42PX80U widescreen VIERA plasma television offers several features for viewing your favorite programs, movies or even playing games. It comes with a pedestal (model number TBLX0036) that allows you to sit the TV on a flat surface, but you also have the option of purchasing one of four wall-mounting brackets -- either vertical or angled. The mounting brackets come with 10 screws and additional hardware, but if they're missing you can purchase replacements from your local hardware store.
Wall-Mounting Brackets
The optional wall-mounting brackets allow you to hang your television on a vertical surface, like a wall, as high or as low as you'd like. Of the four acceptable wall-mounting brackets, two are vertical and two are for an angled mount. Model numbers are TY-WK42PV3U (vertical), TY-WK42PV4W (vertical), TY-WK42PR3U (angled) and TY-WK42PR4W (angled).
Precautions
Only a certified or qualified technician should install the wall-mounting brackets to the wall. This is not only for the manufacturer's warranty from Panasonic, but also for your safety. Improper installation can result in the television falling and causing personal injury. Before choosing the location for your VIERA television, keep in mind that you cannot install the brackets near sprinklers or smoke detectors; where there may be vibration exposure; near power supplies or high-voltage wires; near water vapor, soot or heat; or near ventilation systems that blow heat or have condensation. Ceiling lamps can also cause the cabinet to warp or bend due to the high heat. The mounting bracket needs to be near a power supply that the television's power cord can reach easily. The temperature where the television is installed should never exceed 104-degrees Fahrenheit.
Hardware and Screws
The proper screws for the installer to mount the bracket to the surface (wood, concrete, steel) need to have a nominal diameter of 6 mm. When you purchase the wall-mounting bracket, you should have a hardware packet for fastening the television to the bracket that includes an allen wrench, four insulation spacers, four dished toothed washers, two M5X35 screws, four allen-head countersunk M8x60 screws and four allen-head countersunk M8x32 screws. The number following the "M" is the diameter of the screw in millimeters; the screws are metric.
Other
If the mounting bracket didn't come with screws, call the store you purchased the bracket from and inform them of the missing parts. You should get the hardware kit for free since it was supposed to be included in the box. The certified installer who will install the mounting bracket to the wall will have the proper screws.
---
With a professional background in gardening, landscapes, pests and natural ecosystems, Jasey Kelly has been sharing her knowledge through writing since 2009 and has served as an expert writer in these fields. Kelly's background also includes childcare, and animal rescue and care.