Things You'll Need
Drop cloths

Painter's tape

Variable speed drill

Drill bits

150-grit sanding pads

Chemical resistant rubber gloves

Respirator

Shop vacuum

Rags

Paint thinner

2 1/2-inch angled paintbrush

Stain

Clear coat
Tip
You can use a rag to apply stain instead of a brush. Using a rag will help eliminate runs in the stain.
Allow each coat of stain to dry completely before applying another coat. Applying multiple coats too soon will pull the previous coat off.
Applying stain in the opposite direction of the stain will be obvoius when it dries.
Using oil base stain and clear coat will not raise the grain on your wood like water based stains and clear coats. This eliminates the need for sanding after staining and clear coating.
Warning
You must have adequate ventilation when using oil based products. Wear a respirator if you do not.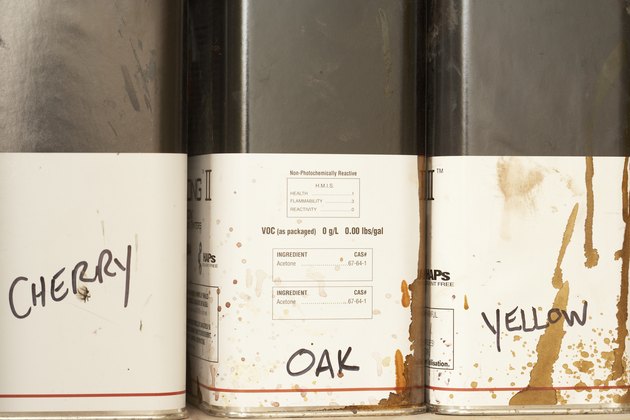 There is no need to purchase a new piece of furniture if you are tired of the color of your oak and want a new look. You can change the color of your wood to suit your taste and your decor by using stain. This is the most cost effective way to get a new piece of furniture without actually purchasing it. All of the work involved is nothing compared to standing back and admiring what you will have accomplished on your own.
Step 1
Tape the walls on either side of your furniture piece if it is up against a wall. Secure plastic drops to the floor up tight to the furniture with painter's tape and lay cloth drops on top of the plastic. Remove all hardware with your drill. Hardware includes drawer pulls, door pulls and door hinges. Take out drawers, shelves and doors.
Step 2
Sand the entire surface of your oak furniture with your 150-grit sanding pads. Sand only in the direction of the grain. If you sand across the grain you will create scratches in the surface of the wood.
Step 3
Apply pressure while sanding so that you sand through the clear coat to the stain. Stain will not adhere well to any clear coat because it prevents anything from being absorbed into the wood.
Step 4
Vacuum with a dust brush attachment to remove the sanding dust from all corners and crevices. Lightly dampen a rag with paint thinner and wipe down the entire surface. Complete this step until you cannot see or feel any remaining dust. Dust will leave rough spots in your finish.
Step 5
Stir your stain with a paint stick do not shake it. Shaking stain will create bubbles that can transfer to your wood. Dip your brush into the stain and lightly dab off excess stain onto a rag. Brush on an even coat of stain going with the wood grain. Watch for runs in the stain and use your brush to blend them in.
Step 6
Stain only one side of doors and shelves at a time. Set these pieces on scrap sections of lumber if available or lay them on cardboard. Allow your stain to dry a minimum of 8 hours before staining a second coat and before staining the opposite sides of doors and shelves.
Step 7
Apply a clear coat to protect your stain. Stir the clear coat with a paint stick. Most of the bonding properties settle in the bottom of the can. Apply the clear coat with your paintbrush with the wood grain. Allow your clear coat to dry overnight and apply a second coat.
---
Based in Oklahoma City, Debbie Tolle has been working in the home-improvement industry since 2001 and writing since 1998. Tolle holds a Master of Science in psychology from Eastern Illinois University and is also a Cisco-certified network associate (CCNA) and a Microsoft-certified systems engineer (MCSE).