For small kitchens with limited space, or even a kitchen with plenty of space, a wall hinged table can be useful in multiple situations. It may be that there's not enough room to keep a table up all the time, or extra seating is need for special occasions. Whatever the need, a wall hinged table is easy to build, requires very few resources, can be built in a few minutes and won't break your wallet.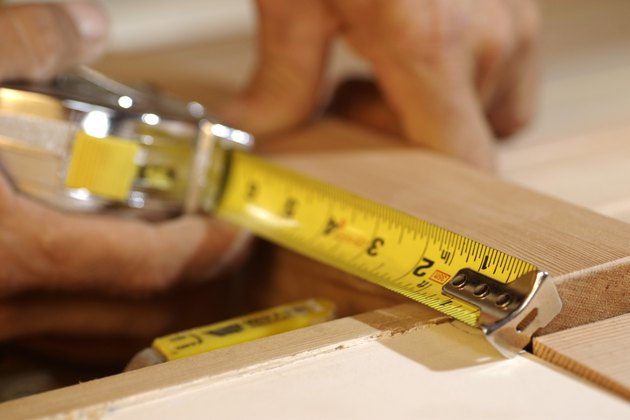 Step 1
Lay the plywood flat, measure four inches down from the upper left hand corner, and four inches perpendicularly to the right. Screw one of the two-inch hinges at this spot. Measure four inches down from the upper right hand corner of the plywood, and four inches perpendicularly to the left; screw the last two-inch hinge at this spot. Both hinges should be square with the plywood, and be able to fold away from the side from which you measured.
Step 2
Screw the 2-inch-by-2-inch oak boards to the hinges. Be sure that once they are secure, they can fold down over the plywood.
Step 3
Sand the table top and legs first with the medium grade sand paper, and then with the fine grade sandpaper. Apply the wood stain and let it dry, and then apply the desired number of polyurethane coats.
Step 4
Turn the plywood and legs over so the plywood is lying on the legs. Screw the 30-inch hinge to the plywood on the side that is opposite the side that has the legs hinged to it. The joint of the hinge should overhang the edge of the plywood. Screw the other side of the hinge to the wall, 30 inches from the floor.