Bassinets are convenient, often inexpensive, first beds for infants. Most bassinets have casters allowing them to be easily moved. Traditionally, bassinets are made of woven basket material, but today's bassinets may be constructed of synthetic materials, such as plastic, embossed or woven to resemble natural basketry. According to Burlington Basket Company, use a bassinet when the baby is under 25 pounds or until your baby can roll over unassisted, whichever happens first. Bassinets are generally quite easy to assemble.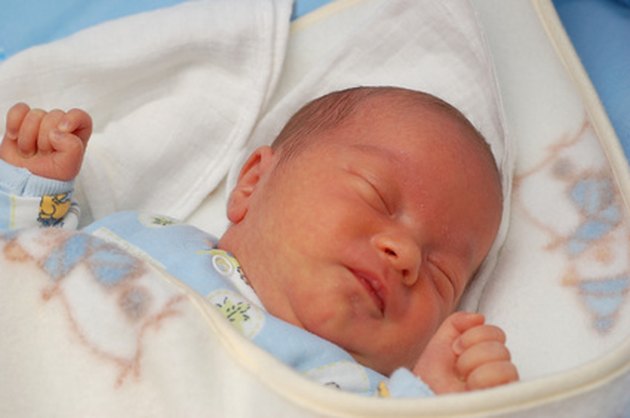 Step 1
Remove the bassinet from the box and packaging. Place the bassinet upside down on a flat surface. Most bassinets arrive from the manufacturer with the legs attached to the bassinet's underside over a wood frame or on a metal or plastic attached plate. If your bassinet has legs that require attaching, screw the legs to the frame as indicated by the bassinet design.
Step 2
Unfold the legs by pulling them upward and out. Most bassinets have one leg arrangement or two joined legs at each end (the foot and the head of the bassinet). The legs should lock into place by means of a snapping joint, or a folding brace, depending on the bassinet's design.
Step 3
Insert the leg brace, or braces, between the legs. Leg braces may screw to the legs, or they may attach by means of a notch and hole configuration. Examine your legs and leg braces to determine which method is used to affix the braces to the legs. Leg braces give your bassinet strength to support your baby.
Step 4
Turn the bassinet over right side up. Insert the liner over the bassinet, aligning the holes in the liner with the notches, knobs or holes at the head of the bassinet. Usually there is a satin-type, quilted fabric that is pushed into the bassinet. Tug the ruffles or skirt over the exterior of the bassinet.
Step 5
Stretch the mattress cover over the mattress. Stretch the fitted sheet over the mattress cover. Place the mattress into the bassinet. The mattress will fit very snugly so the baby cannot get his limbs or head wedged into a crevice. Never use a mattress that doesn't fit very tightly into the bassinet.
Step 6
Stretch the hood cover over the hood frame. The hood frame is usually visible beneath the cover. The fancy side of the cover is applied on the exterior of the bassinet/hood. Align any holes or loops on the cover with the knobs, notches or holes on the hood frame.
Step 7
Install the hood frame onto the bassinet. There will be notches, knobs or holes where the hood frame attaches through the liner and into or onto the bassinet. The hood will rest on the top edge of the head portion of the bassinet.