Many parents and grandparents have a vintage single dropside Lullaby Crib. These cribs were created by Lullabye Co. in Stevens Point, Wisconsin, and popular in the 1960s through the 1980s. Since the company is no longer in business, instructions can be difficult to find for those who would like to use the crib for a grandchild's upcoming weekend visit or other purposes. Although many models of the Lullaby Crib were created, general instructions should be applicable to your crib.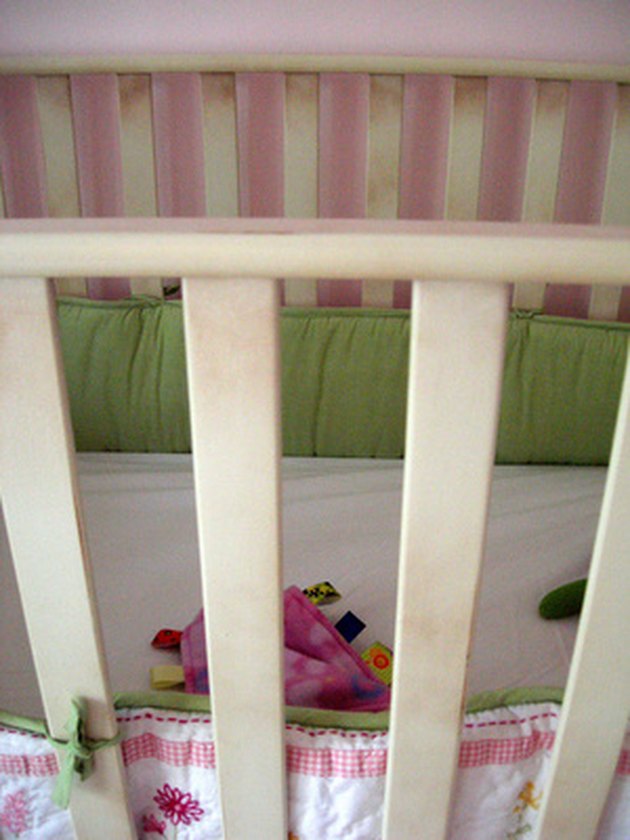 Step 1
Locate the stabilizer bar. The length of the bar will equal the width of the front of the crib. Align it with the upper latches on the headboard and footboard at both ends of the crib's dropside. Secure it by tightening the screws.
Step 2
Secure the stationary side of the crib by threading a screw halfway into the hole near the bottom of the corner post that is adjacent to the headboard. Slide one of the two slotted brackets onto the screws on the post. Secure the bracket by tightening the screws. Do the same with the other bracket on the corner post adjacent to the footboard.
Step 3
Locate one of the four spring hangers. Place it in one of the four brackets on the mattress frame and use a hammer to secure it into place. Do the same with the other three springs on each corner. Position the mattress support spring in the crib with the flat side up. Guide the hangers into the bracket hooks on both ends of the crib.
Step 4
Insert each of the four casters into the holes at the bottoms of the crib's corner posts. Then align the dropside along the side of the crib, positioning the release bar so it is toward the inside of the crib.
Step 5
Locate the cane-shaped rod. Place it through the opening in the top of the dropside and into the hole on the upper latch of the headboard's corner post. At the bottom of the cane rod, place a tapered spring onto the rod, above the bottom rail. The small end should be up. Then place the rod through the hole in the bottom rail. Below the bottom rail, place a second tapered spring on the cane rod with the small end down. The large ends of both springs should be positioned against the bottom rail.
Step 6
Repeat Step 5 to attach the opposite end of the dropside to the corner post of the footboard.