Tip
Have a helper handy. When installing a pull-out mattress, the job may be awkward and require a second set of hands to hold the folding piece in place.
Warning
Be sure all pieces are present before beginning the project. Count all the screws needed for the job and be sure the manufacturer included all the necessary parts.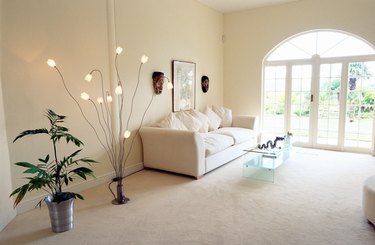 Assembling a sofa at home can save money and make moving the piece a lighter task. A sofa is often one of the largest pieces of furniture in a home. The bulky piece, once assembled may not fit through doorways or narrow hallways. Leaving the assembly of the sofa until after the piece is in place may lighten the load. Bring in the pieces one at a time and be sure there is plenty of space to put the sofa together. Put down a tarp or piece of plastic to prevent any mess on carpets or rugs.
Step 1
Remove any packing cardboard or plastic from the sofa. Take out the small pieces and place in neat piles within reach.
Step 2
Put on the legs or feet for the sofa. Turn the main piece of the sofa upside down. Inspect the included feet and look for holes for installation on the bottom of the sofa. If not present, use a drill to match the included screws. Drill into the solid wood area on the underneath corners. Screw in the footing screw approximately halfway into the bottom of the sofa. Put the leg onto the screw and tighten into place.
Step 3
Flip the main frame of the couch upright and install the pull-out mattress, if included. A metal bar or four brackets will be in place along the edge of the sofa. Align the back, or folding area, of the pull-out with these brackets or bars and screw in place. If the sofa does not include a pull-out mattress, skip this step.
Step 4
Put seating cushions in place. The back may be solid or require that two or more cushions be put in place. The sofa should come with two or three seating cushions which should fit tightly in place across the seating area.
---
Sidney Johns began her writing career in 1993 after moving to Florida. The former teacher and surgical technician worked in the home improvement industry prior to earning a Bachelor of Science in education from Indiana University. While on hiatus in 2004, Johns studied holistic healing and organic growth and gardening.