It's cute, it's kitschy and it's totally trending. The soothing sway of a hammock chair has attracted many DIYers to want to hang one in their own home. Versatile in its range of design, colors and fabrics, the hammock chair is a relatively sturdy piece to add to your space. However, you will want to secure the piece so that it can handle any weight, from a furry friend to a plump pal.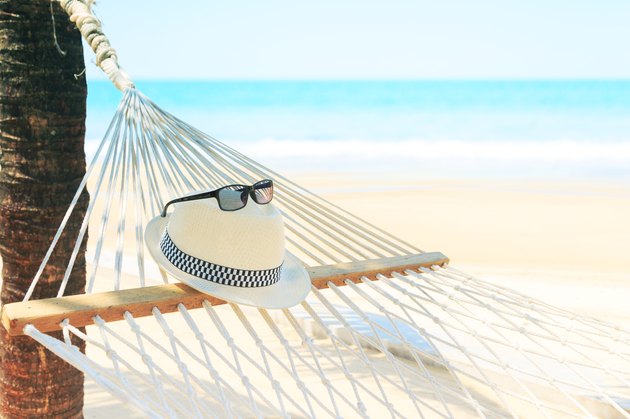 credit:
dj_aof/iStock/GettyImages
Most ceiling joists are installed either 16 or 24 inches apart. If you have a floor above the ceiling you plan to hang your hammock chair from, the joist is more than likely stronger than a two-by-four. The edges of a joist can carry much more weight than the center, so plan to hang your hammock toward the edge of the room for a more secure hold.
Rope, Mayan, quilted and Brazilian—there are many different types of hammocks to hang. If you want to go old school, rope is your best bet. Polyester is kinder to soft skin than traditional rope, and less susceptible to spills and mildew if it is placed outside. Most rope hammocks are about 13 feet long so make sure you choose one to fit your space. Most ceilings come in at around 10 feet, although older homes may have 8-foot ceilings.
Quilted hammocks are better for families as they don't have large holes that little hands and feet can fall through. The two layers of material and wooden spreaders offer more support.
Mayan hammocks are bright, beautiful and supportive. Brazilian hammocks ditch the spreader bars so that they are more like a cocoon. Nicaraguan hammocks have a double-weave of soft cotton cords in a tight weave for great support.
Now that you have the basics down, you can hang your newly acquired piece. Make sure that the rope you are using can carry a large adult, so the working load should be at least 200 pounds if not more. Use a stud finder to locate a ceiling joist and drill a small hole for the eyelet screw. Screw the eyelet into the hole up to the shank. Once complete, connect the hook or rope from the hammock chair to the eyelet and adjust the hammock for height. Test the strength out with a bounce or two to make sure it is secure. If all else fails, you can buy a freestanding hammock chair stand and call it a day.