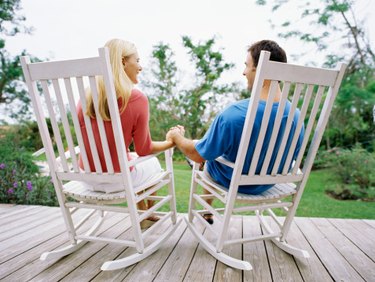 According to the old Scout song, you'll never get to heaven in a rocking chair. But a lot of rocking chair fans feel that relaxing in a comfy seat while rocking is close enough to paradise. Rocking chairs have been around before the salad days of the country and, over the decades, different types and styles have developed.
American Mission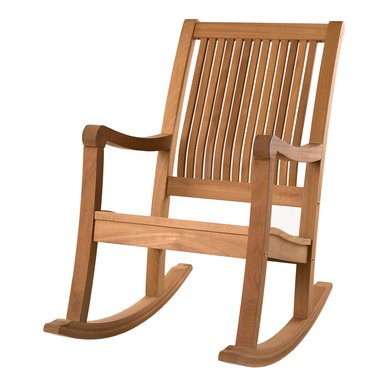 Traditional Mission Style rockers are made of wood. You can recognize the Mission Style by its square, squat silhouette. It is a simple design, with a back made from slats, and focuses on simple lines, both horizontal and vertical, as well as flat panels that show off the wood grain. This basic, often hand-produced design developed as a reaction to the mass-produced furniture during the Industrial Revolution. These rockers were often made of oak and appear to be handcrafted work, even when they are factory made.
Bentwood Rocker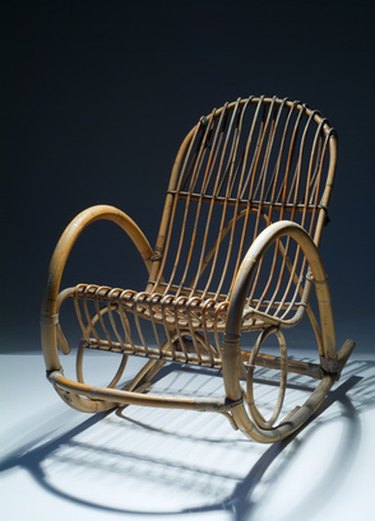 If you see swirls and curls on a rocking chair, it is likely of the Bentwood Style that originated in Austria in the mid-1800s. Micheal Thonet developed Bentwood, a type of furniture made by bending wooden rods into curving shapes after they are softened by steam. He was a cabinetmaker working in Vienna who worked with furniture designs based on curved birch rods. Displayed at the Great Exhibition of 1851 in London, these designs were popular in both Europe and the United States as strong but light, comfortable and inexpensive. These days, you will see Bentwood Style rocking chairs made of wood, as well as those constructed of metal or wicker.
Wicker Rockers
Wicker rockers, though difficult to repeat three times fast, are extremely popular for garden areas and patios, but also can serve well inside a home. They can be designed in any of a number of styles, but the unifying feature is the durable, easy-care material. Most wicker chairs hold up well outside, although it is wiser to bring them in during rainstorms.
Classic Ladder-Back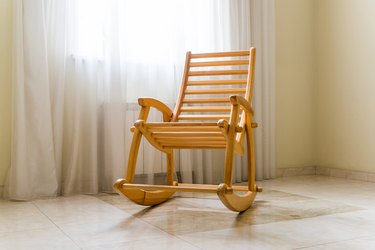 With its wooden back designed with horizontal slats, the classic ladder-back style rocking chair is one of the most easily recognizable. Shaker rocking chairs, the type made by an ascetic communitarian religious sect, are often made in this style. Shakers made furniture in a simple and functional style, preferring beauty founded on utility. Their best-known rocker design features a ladder-back, although the chairs are more slender and also taller than traditional country ladder-back furniture.
Contemporary Style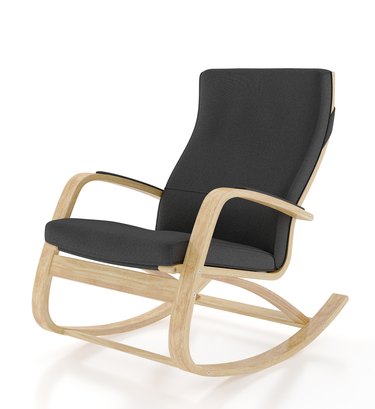 Modern-day people have turned to cushioned rocking chairs that are more comfortable and shape themselves to the bodies sitting in them. This movement began in the 1950s and '60s with the Eames rockers, made of molded plastic and looking very modern while remaining extremely comfortable. You'll find many different types of contemporary rocking chairs available in stores today.
---
From Alaska to California, from France's Basque Country to Mexico's Pacific Coast, Teo Spengler has dug the soil, planted seeds and helped trees, flowers and veggies thrive. A professional writer and consummate gardener, Spengler has written about home and garden for Gardening Know How, San Francisco Chronicle, Gardening Guide and Go Banking Rates. She earned a BA from U.C. Santa Cruz, a law degree from U.C. Berkeley's Boalt Hall, and an MA and MFA from San Francisco State. She currently divides her life between San Francisco and southwestern France.
View Work