Making a chair seat sounds like a daunting task, but in reality it's a simple job that only requires a few basic tools. A quick trip to a fabric store will get you set with the rest of what you need, and soon you can have a whole new chair or set of chairs.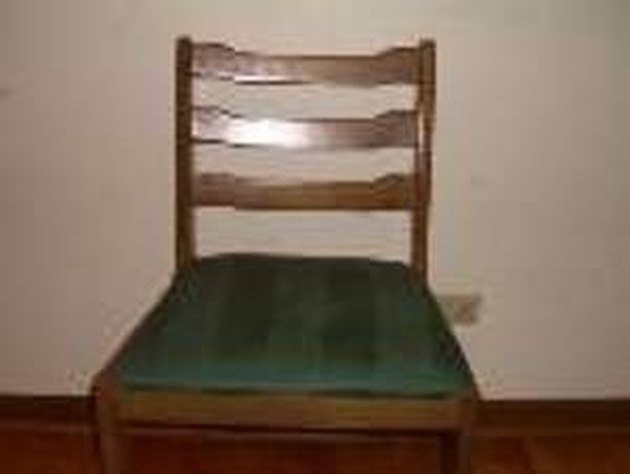 Step 1
Take out the old seat. Turn the chair upside down and unscrew the old seat from the frame. Use a flat-head screwdriver to remove the staples holding the old fabric and padding. Discard the staples and old fabric. If the old padding is in good enough shape to use again, leave it in place. If it's flattened, crumbly, or doesn't spring back when you press it with your finger, remove it and use new foam for the new seat.
Step 2
Cut your materials. Using the seat board as a template, cut the foam about 1/4 inch (0.6 cm) larger than the seat all around. Cut the batting 2 inches (5 cm) wider all around, and cut the upholstery fabric 4 inches (10 cm) wider all around. If reusing the original padding, omit the new foam, but include the new batting to help the fabric lay smoothly over the finished seat.
Step 3
Stack the materials. On a clean floor, lay the upholstery fabric first (good side down), the batting next, the foam (if using) after that, and the seat board on top. Make sure the padding, seat board, and batting are centered on the fabric.
Step 4
Fasten the cover to the seat. Kneel on top of the seat board, compressing the foam. Find the center front of the seat, then pull the fabric at that location up and tight over the seat board. Staple the fabric to the board about 1 inch (2.5 cm) from the edge of the board.
Turn around and find the center back of the seat. Staple the fabric to the seat board at that location in the same way.
Working from the center outward, staple the remainder of the front and back edges. Also working from the center outward, fasten down the sides in the same way.
For the corners, fold in the fabric coming from the side (not front or back) and staple it, then fold down the fabric coming from the front or back over that staple and fasten it with another staple. Avoid stapling in the same place, as that will make the corner fastening weaker and lumpier. Work with the fabric to try to make the corners as smooth as possible.
Step 5
If there is excess upholstery fabric, use fabric shears to cut it away about 1/2 inch (1.3 cm) from the staples. Insert the new seat into the chair frame, and reattach it to the frame with the original screws.