Select Comfort of Minneapolis, Minnesota, has manufactured the Sleep Number adjustable air mattress bed since 1987. The company makes the mattress in four different series or models, which vary in quality of materials and price. The bed allows individual adjustment of firmness by adding or removing air pressure within either of its two side-by-side air mattresses using a remote control to operate an air pump. The bed is very different from a conventional bed in that the mattress is composed of several different parts.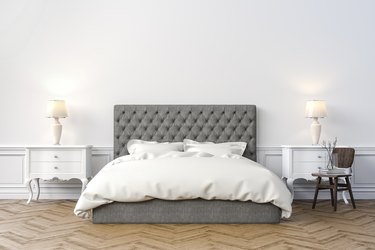 No one bed can please everyone, so shop around and learn as much as possible about any bed you may be considering. Many people understand the proposed benefits of Sleep Number beds thanks to relevant advertising campaigns, but common consumer complaints do exist. To make an informed decision when purchasing a new bed, it's important to take complaints into consideration.
Crevice in the Middle
A crevice or low area forms down the center of the bed between the two air bladders. This is especially noticeable when one bladder has more air than the other. Consumers report discomfort when lying across this crevice. Select Comfort does offer a solution to this in the form of a foam insert.
Value for the Price
Prices for a Sleep Number bed can seem expensive when compared to prices of other mattresses. Many Sleep Number bed owners consider the light weight and use of certain construction materials to be a sign of lower quality when compared to mattresses of a similar price.
Wear and Subsequent Replacement of Parts
Due to the separate parts used to create Sleep Number mattresses, the bed may require ongoing maintenance. Mechanical parts, as well as comfort layers and supporting foam, may periodically need replacement. The manufacturer covers the cost of replacement parts for the first two years under the warranty. After two years, some of the cost becomes the bed owner's responsibility.
Causes or Worsens Pain
Some owners report that the bed causes discomfort or pain, or that it aggravates pain, mainly from excessive firmness and sleeping on the crevice in the middle. Using a mattress topper tends to help alleviate these problems. Others report pain due to air loss and attribute this to inoperable or malfunctioning mechanical parts and leaking bladders. Support foam becomes fatigued and losses its ability to cushion the body, often requiring replacement.
Expensive Return Policy
Any Sleep Number bed can be returned during its 100-day trial period. However, original shipping and return shipping costs are the responsibility of the customer and can amount to several hundred dollars.
---
Bill Goodwin has more than three decades of experience in commercial, residential and industrial building maintenance and construction. He has been certified in refrigerant recovery, recycling and transition. Goodwin has been the author of numerous home improvement articles from 2008 to the present.