Since the days of lumpy trundle bed, daybed and fold-away bed mattresses, the mattress industry has made technological advances. The twin-size mattress you buy as a standalone bed is not much different from the one you store in a rolling trundle unit. Both can offer a comfortable night's rest. But, there are some differences between trundle bed mattresses and standard twins.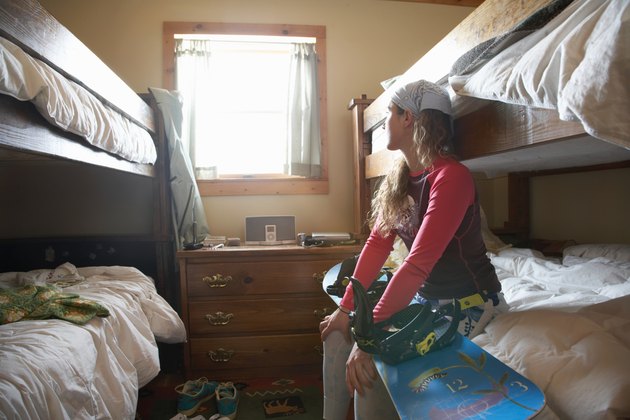 A trundle bed has two mattresses. The main unit is a twin-size mattress nestled in a frame which consists of three pieces: two side panels and one back panel. If the day bed has a trundle drawer or rolling steel frame with wheels, it will be stored in the space beneath the daybed. Unlike a standard twin mattress which requires a box spring and a steel frame for support, the trundle bed mattress rests on a platform or supporting slats. For smaller rooms, the ability to store an extra bed for occasional use frees up precious floor space.
A standard twin-size mattress measures 39 by 75 inches. Extra long or California-long twin mattresses add an additional 9 inches, measuring 39 by 84 inches in length. Because of the trundle-bed frame, the length of the twin-size mattress is limited by the frame and the trundle unit. A pop-up trundle unit may accommodate a standard twin mattress; but, it's not uncommon to find 71-inch mattresses sized for trundle drawers.
Twin-size mattresses range in thickness from 6 to 18 inches, based on construction, quality and pillow-top features. Many trundle beds accommodate an 8-inch-thick twin mattress. But, it's not uncommon to find trundle mattresses that measure just 5 inches.
With technological advances in the mattress industry, materials used to construct trundle mattresses mean greater comfort. It also means less differentiation between a trundle mattress and a standard twin. Twin-size mattresses for freestanding beds and trundle units are manufactured from a wide range of materials. High-tech, antimicrobial memory foam, latex foam, pillow-top beds and air-chamber mattresses are just some of the alternatives available for use in trundle beds.