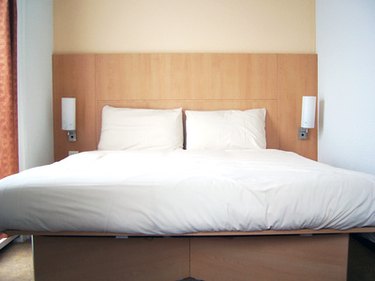 A queen-sized bed is wide enough to give two sleepers at least 30 inches of space to call their own, so the beds are perfect for couples or for single sleepers who love to spread out. Because they are larger than twin or full-sized beds, they are commonly seen in rooms such as master bedrooms or larger guest rooms. If you are planning to furnish your space with a queen-sized bed and accompanying bedroom furniture, there are some considerations about room size to keep in mind.
Dimensions
The actual size of a queen-sized bed is 60 inches wide and 80 inches long. The height of the bed is determined by the quality of the mattress. If the bed is a pillow-top mattress, it will be much thicker than an ordinary mattress. Master bedrooms, which are the main bedrooms in most homes, are typically larger than other rooms in the house and can therefore house a queen-sized bed comfortably. Ideally, a room should be no smaller than 10 feet square to adequately house a bed this size.
Furniture
The size of your room will determine how much furniture you can fit in the space. Standard bedroom furniture might feature a headboard and footboard, one or two nightstands on either side of the bed, a chest of drawers and a vanity dresser. If your room is smaller, so much furniture might not be an option. The headboard and frame of the bed take up added space around the mattress itself. This width should be taken into account when measuring the space.
Scale
The scale of your room is an important factor in furnishing your space. If your room is on the smaller side -- for instance, 9 feet square -- a queen bed might fit physically, but inhibit foot traffic or cause the room to look cramped. On the other hand, a larger room might feel stark if the bed is too small for the space -- in which case a king mattress might be preferred.
Design Scheme
Consider your chosen design motif when furnishing the space. If you prefer a more modern aesthetic, you will want minimal furniture with sleek lines. The room should be large enough to showcase the queen bed, but large enough to allow ample foot traffic and help the room to feel uncluttered and clear. For a more traditional look, coziness is key, so the room might need to be large enough to feature a comfortable chair and ottoman or a chaise lounge alongside the queen bed.
---
Liza Hollis has been writing for print and online publications since 2003. Her work has appeared on various digital properties, including USAToday.com. Hollis earned a degree in English Literature from the University of Florida.