Arranging furniture in small bedrooms can be a tight squeeze. A daybed allows for the functionality of a cozy twin bed but acts as a space-saving sofa. A three-sided frame of a daybed offers more options for placement in the room, because the frame adds a barrier that allows for other furniture to be placed alongside of it without interfering or snagging the bedding and blankets. Some daybeds are two-sided, with a headboard and footboard at an even level to mimic the look of a sofa. A daybed can be placed in the center of a wall, and both a three- and two-sided frame protects pillows from tumbling to the floor on either side, just like the arms of a sofa would. Depending on the room size, this leaves either side of the bed open for a night table, dresser, a standing mirror or whatever your décor your room may need.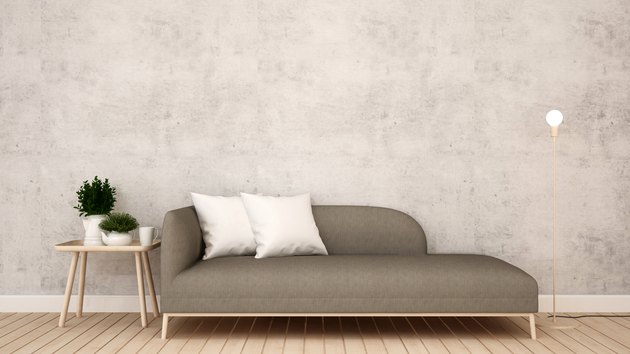 Pick Your Style
The metal Victorian frame is considered the "classic" look for daybeds. But no matter what your décor style, there is a bed to match. Contemporary looks offer sleek modern sides, and Indian or Moroccan-inspired wood frames can offer a warm hue against jewel-toned bedding. Traditional mission, sleigh and colonial bed frames are available, built with solid oak or other wood. For a more masculine look, metal frames and solid wood daybed frames offer a sturdy decor choice that suit a guy's bedroom.
Daybeds can also be made of uncommon materials and can serve as a statement piece to anchor a room. Wicker, rustic wood, and elaborately curved antique wrought iron create a room that's anything but cookie-cutter.
Storage Drawers and Trundle Beds
Daybeds do not need a box spring, which means there is room underneath for storage – or an entire extra bed! Many bed frames have storage drawers built in for convenience. These can hold extra bedding or pillows for the bed or be a substitute for a toy chest or dresser. If your bed does not come with storage drawers, large baskets can serve the same purpose and match your existing décor.
Trundle beds serve as a perfect solution to tight space in a guest room, office or child's room. These beds slide under the daybed and can be tucked away until needed for visitors. Keeping a daybed in an office allows for it to function as a sofa during the day and a guest room for two people at night with a trundle. Drawer trundles fit a twin-sized bed and sit low on the floor. A pop-up trundle turns a twin daybed into a king-sized bed. Pop-up trundles can be elevated and locked in place at the height of the daybed, while the drawer trundle cannot.
Growing with a Child
A daybed can grow with younger children. The three sides can function similarly to a crib, and a fourth side made from netting can be purchased to keep children from rolling off until they are used to sleeping in a "big" bed. The sofa-like space works well as a hang-out spot for friends as kids get older. Growing teenagers might appreciate the king-size option of a pop-up trundle.
Bedding
Durable daybed covers can be useful for beds that will get lots of wear from doubling as seating. The covers fit snugly on the mattress and hang over the sides of the bed to mimic the appearance of a sofa. Traditional sheets and bedding can be used as well, and adding a dust ruffle or bed skirt can hide the trundle bed or storage space underneath.
Bed sets made just for daybeds offer blankets or coverlets that hang on three sides. Some are long enough to touch the floor, so if you have storage drawers you do not want blocked or hidden, stick with a standard twin bed set.
Depending on the placement and room, your daybed can be a sleek sofa, a cozy reading nook, or a sleepy window seat with the right bedding to add the final touch.
---
Nat Howard is a writer, editor, journalist, and jack-of-all-trades, covering topics from home improvement and design to healthcare and career advice.
View Work