Kids love bunk beds. A bunk bed can even become a ship, a fort or a princess castle. The arrangement--one bed on top of the other--creates an intimate space where siblings can share ideas and secrets. In a small room, bunk beds make it possible for two people to have their separate space even though they share a sleeping space. It is not all that difficult to build a sturdy wood bunk bed that will serve a multitude of purposes through the years.These instructions should result in a very simple bunk bed that will accommodate twin mattresses (39 inches x 75 inches). The lower mattress will be approximately 1.5 feet off the floor; the upper mattress will be approximately 5 feet off the floor. You can adjust these measurements to suit.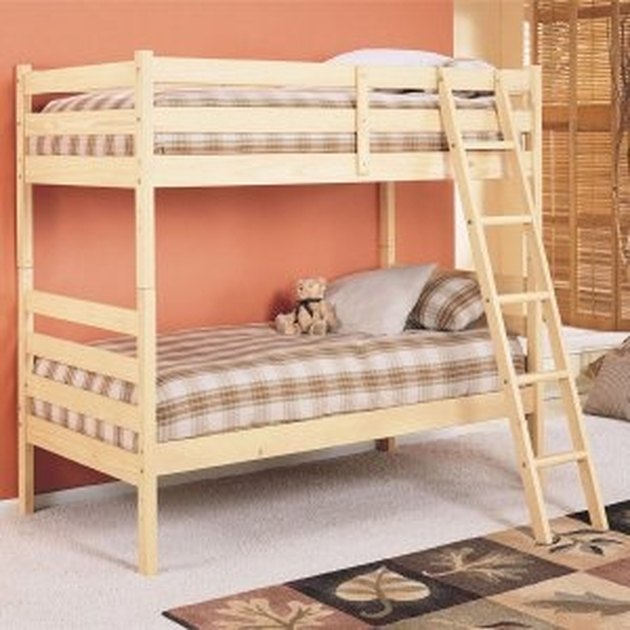 Step 1
Cut your lumber. All measurements are approximate--cutting the lumber can adjust it to meet your own specifications.
Step 2
On the inside of each 4x4 post, measure and mark the placement for the side boards and the head and footboards of your bottom bunk. You want the bottom edge of your 2x6 side board to be about 1 foot off the floor. Your head and footboards should rest just on your side boards. All 2x6 pieces should be attached to the inside surfaces of your 4x4 posts.
Step 3
On the outside of your 4x4 posts, using your first marks as a guide, measure and drill holes to attach your side boards. Mark your holes so they make a diagonal line across the post.
Step 4
On the adjacent outside edge of your 4x4 posts, measure and mark drill holes for your head and footboards.
Step 5
Lay all the pieces out, and check your work. When you are certain your marks are good, drill holes through the 4x4 posts and sideboards. Attach the sideboards to the posts with lag bolts. Then,, drill holes through the 4x4 posts and head and footboards, and attach the head and footboards to the posts with lag bolts.
Step 6
Cut the half-inch plywood to fit neatly on top of sideboards. Attach the plywood firmly to the sideboards with screws.
Step 7
Allow enough space between the lower and upper bunks for a person to sit up. Repeat Steps 2 through 6 for the upper bunk.