Murphy beds come in two basic designs: The side-mount bed opens from a wall with the length of the side of the bed secured along the wall. The traditional Murphy bed is mounted to the wall at the head of the unit, so you pull the foot out from the top. You can build a Murphy bed mechanism that folds up into a wall cabinet if you have the proper materials. Several specific pieces of hardware are needed to build a safe, sturdy Murphy bed.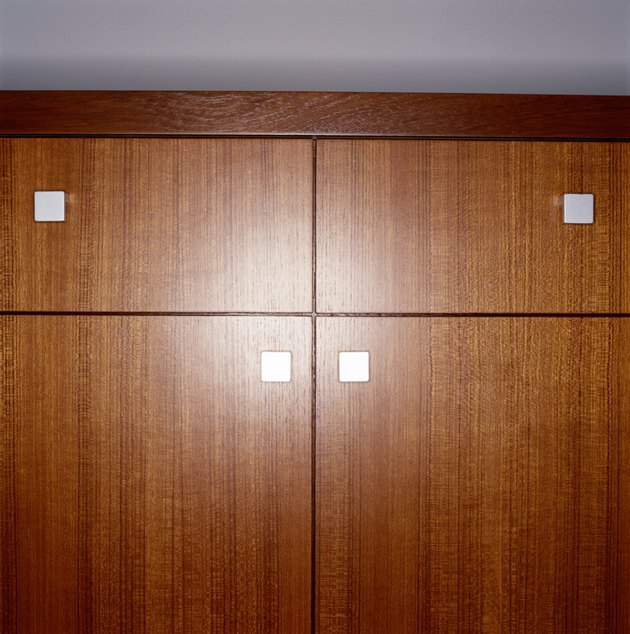 credit:
Ryan McVay/Photodisc/Getty Images
Murphy bed frames are sold in kit form. A quality heavy-duty frame mechanism is constructed of cold-rolled heavy-gauge steel angle iron. The steel mechanism holds the wood frame, mattress and bedding in place with straps that are attached to its sides. Frames are built to fit twin, full-, queen- and king-size mattresses. You can even build Murphy bunk beds.
High-tension springs or gas springs that allow you to slowly lower the bed unit from its storage place come with the kit. Springs that are specifically labeled for a Murphy bed project enable you to prevent damage to the bed or injury to the user. The strong springs attach to each side of the bed and a base bracket. When installed properly, the process of lowering the bed is safe enough for a child to do.
The metal frame that houses the bed mechanism mounts directly to the floor of the room with No. 14 screws. The bracket goes inside the cabinet interior. The bed frame and mattress mount in a vertical or horizontal position with the aid of a base bracket. Select a bracket that will support a Murphy bed system to ensure you have a safe, long-lasting unit.
You'll need a handful of tools to install the hardware during the assembly and installation of the hidden bed. Use a power drill to install the base bracket into the studs. A stud finder will come in handy in the beginning stages of the installation. If you are following a specific pattern, its instructions will include a list of the drill bits you'll need to secure wood screws, toggle bolts, hex bolts and nuts. An adjustable wrench will work with any nuts that need securing.
Install a metal gate latch with a set of screws to close and secure the wooden cabinet opening. This sturdy latch will keep the cabinet door closed to prevent the Murphy bed from lowering accidentally. Add a decorative touch to the outside of the wall unit with a single bar, or a set of handles, to pull open the cabinet door.