Things You'll Need
4 wood blocks, 6-inch by 6-inch by 6-inch

Medium-grit sandpaper

Sanding block

Safety goggles

Drill

3-inch diameter spade drill bit

Ruler

Fine-grit sandpaper
Warning
Always sand and drill in a well ventilated area to avoid inhaling too much wood dust.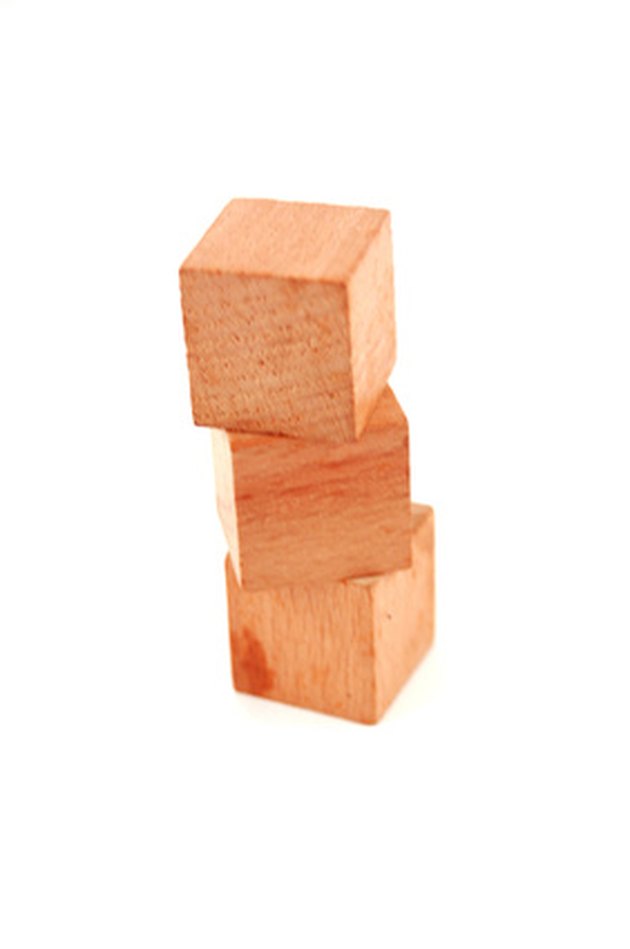 Wooden bed risers raise a bed frame from the ground, providing extra storage space or creating a fashionable drop for a luxurious bed skirt. Make wooden bed risers from blocks of wood. Purchase the wood blocks at a home improvement store that offers free wood cutting to your specifications and save yourself the hassle of cutting the wood to the correct dimensions by yourself. Most home improvement stores will cut all or part of your purchased wood free of charge as long as they have a trained employee working at the time you need the wood cut.
Step 1
Wrap a piece of medium-grit sandpaper around a sanding block. A sanding block can be any small scrap of wood that comfortably sits in your hand and is easily gripped. A sanding block helps you get a grip on the sandpaper while you sand your wood project. According to the Woodzone website, 80 to 120 grit, also called medium grit, is used to smooth the cut wood, removing splinters and roughness.
Step 2
Sand the four blocks of wood until all surfaces are smooth to the touch.
Step 3
Put on your safety goggles. Measure the top of a wood block with a ruler and make a pencil mark at the 3-inch mark at the center of the block. This will be where you will drill out the hole in the bed riser for the bed frame leg.
Step 4
Align the spade bit with the centered pencil mark on the block of wood. Drill a 3-inch diameter circle to the depth of 2-inches. Periodically stop drilling and use a ruler to measure the hole's depth. Repeat for all of the blocks of wood.
Step 5
Sand the interior of the drilled holes until the surfaces are smooth to the touch. Repeat for all of the blocks of wood.
Step 6
Sand the outside of the bed risers and the inside holes where the bed frame legs will be positioned with a piece of fine-grit sandpaper to create an ultra-smooth surface. Working with wood requires multiple types of sandpaper grit to eventually achieve a smooth finish to your wood project.
---
Louise Harding holds a B.A. in English language arts and is a licensed teacher. Harding is a professional fiction writer. She is mother to four children, two adopted internationally, and has had small businesses involving sewing and crafting for children and the home. Harding's frugal domestic skills help readers save money around the home.