Things You'll Need
Measuring tape

Extender rails

Electric drill

Bolts

Lock washers

Wing nuts

Electric screwdriver

Wood screws
Tip
If you do not have a footboard, use a new bed frame. Attach the king-size bed frame to the headboard, making it appropriate for the larger mattress.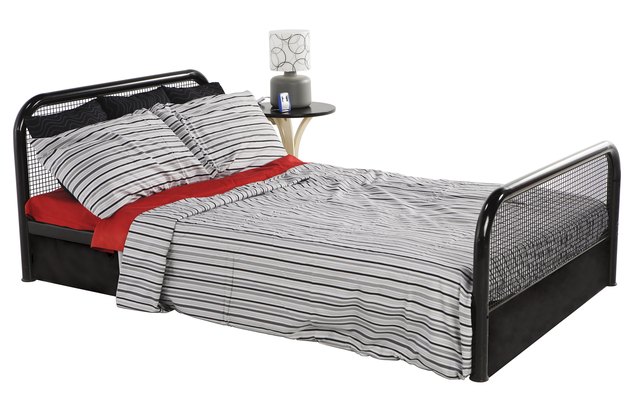 A queen-size bed is large enough for some couples, but it might feel a little too small for your needs. King-size beds have the same length, but increase the width by a full 16 inches. Since king mattresses do not fit bed frames designed for queen beds, you typically must purchase a new frame and install the frame onto the existing headboard and/or footboard. Extender rails work with your existing bed, but increase its overall size.
Step 1
Measure the width of the king size mattress. Transfer the measurements onto your existing headboard, marking the distance across the headboard. Measure the distance between the holes on the new extender rails and mark the distance on the headboard.
Step 2
Drill four holes approximately 1/2 inch into the headboard, placing the holes on top of your marks. Depending on the manufacturer, the rails should have three to five holes for the bolts. Move to the opposite end of the headboard and drill matching holes.
Step 3
Insert a bolt through each of the holes. Screw the bolt through the extender rail and through the headboard. Cover the back of the bolt with a lock washer and wing nut, screwing each piece onto the bolt. Repeat the process, attaching the extender rails to each side of the headboard.
Step 4
Lift the end of the extender rail and press flat against the footboard. Drill small holes through each of the holes in the rail, until the hole reaches the footboard. Stop when the drill just barely reaches the footboard. Don't drill through the front.
Step 5
Screw three to five wood screws into the extender rail. Attach a single screw to each of the holes, just as you did with the bolts on the headboard. Move to the other end of the footboard and attach the opposite extender rail. The extender rails increase the space, making the bed fit a king-size bed.
Step 6
Slide the center rail in between the extender rails. Move the smaller rail until it snaps into place. Adjust the piece on the other bed rail, slipping it into the hole in the center of the rail. The center piece adds support for your box spring and mattress.
---
Jennifer Eblin has been a full-time freelance writer since 2006. Her work has appeared on several websites, including Tool Box Tales and Zonder. Eblin received a master's degree in historic preservation from the Savannah College of Art and Design.