Warning
Many pop-up beds feature a spring-loaded, open frame construction. Children and pets can become caught in this frame and injured if the locking mechanism is dislodged. Warn children to avoid playing in this area and lower trundle beds after use.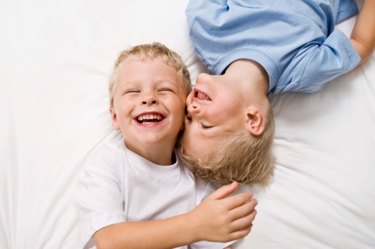 Trundles are easily stored beds that fit in the space beneath a traditional bed or sofa. Unlike air mattresses, stowaway beds or cots, trundle beds require little space and permit the use of a standard mattress. Some trundle beds have fixed frames that remain at an uncomfortably low height. Pop-up or lift-up trundle beds feature a mechanism that enables the user to raise the trundle bed to the height of a normal bed. This feature makes it possible to treat the trundle as a normal bed or push it against the main bed to expand the sleeping surface.
Step 1
Slide the trundle bed out from under the mattress.
Step 2
Engage the brakes by switching the lever located on the wheels.
Step 3
Remove any objects on top of the mattress. Proceed with caution; some beds pop up with considerable force.
Step 4
Release the bed lock located on the side of the frame near the head of the bed. The lock can be a hook-and-latch or button release. Disengage the secondary lock located at the foot of the bed, if there is one.
Step 5
Lock the bed in the raised position by re-latching the lock at the head of the bed.
---
Sylvia Cini has written informative articles for parents and educators since 2009. Her articles appear on various websites. Cini has worked as a mentor, grief counselor, tutor, recreational leader and school volunteer coordinator. She holds a Bachelor of Arts in psychology from Clark University of Worcester, Massachusetts.