Things You'll Need
Large sheet of paper

Awl or poking tool

Saw

1-inch sheet of plywood

Stud finder

2 wood screws, 3 inches long

Level

Pencil

Drill with bit

1 1/2-inch wood screws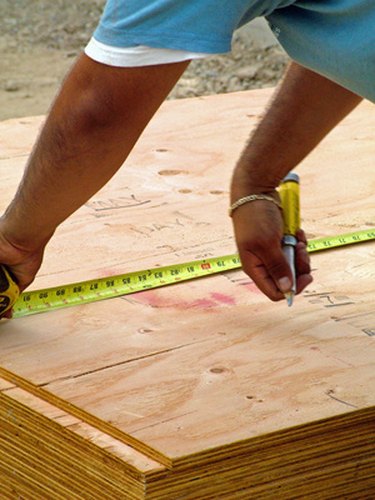 If you own or want to purchase the IKEA MALM bedside table but not the MALM headboard to which its included hardware attaches, you may be at a loss for how to mount this unusual, floating-style nightstand. IKEA constructs the MALM bedside table from particleboard and fiberboard, which is relatively weak compared to lumber, so use the stronger factory-manufactured attachment points located on the back of the table to connect one side of a French cleat.
Step 1
Place the large sheet of paper along the back of the bedside table, over the location of the screw holes. Poke through the paper into the screw holes; now you have a screw hole template.
Step 2
Cut out two sections of plywood that are 19 inches by 3 inches. Cut one long edge on both of the plywood strips to a 45-degree angle. Dry-fit the two angled edges together to ensure they properly interlock.
Step 3
Find a horizontal stud with your stud finder where you can attach the table to your wall. Attach one of the plywood lengths to the wall here, directly to the stud beneath, with 3-inch wood screws; position the angled side as the top edge, with the angled area facing the wall. The plywood length should be exactly horizontal, so check it with your level before you screw it to the wall.
Step 4
Set your screw hole template over the center of the remaining length of plywood, which you've positioned horizontally. Mark the location of the screw holes on the plywood, check them for levelness, and then drill pilot holes completely through the marks.
Step 5
Fasten that plywood length to the back of the MALM table, using the table's factory-drilled screw holes and 1 1/2-inch wood screws. Position the angled side of the plywood length as the bottom edge, with the angled area facing the table's back; both parts of your French cleat are now in place.
Step 6
Mount the table to the wall by raising the back of the table just over the wall-mounted cleat and then gently situate the table's cleat angle into the wall-mounted cleat's angle below; the weight of the table on top of the angles will hold the pieces together without any further screwing.
---
Katherine Harder kicked off her writing career in 1999 in the San Antonio magazine "Xeriscapes." She's since worked many freelance gigs. Harder also ghostwrites for blogs and websites. She is the proud owner of a (surprisingly useful) Bachelor of Arts in English from Texas State University.