No matter if you are decorating a new wall or giving your room a makeover, adding texture to a wall is an easy way to give new life to an existing room. Many different techniques can add a unique touch to any room in the house. You can add texturing to drywall before painting, texture a cement wall or texture a painted wall using different tools and a little paint. Texturing is a great way to hide little imperfections in a wall or areas that have been patched with plaster.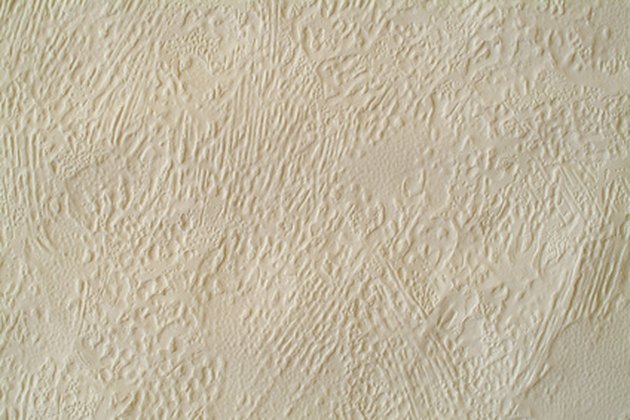 Step 1
Select the wall or walls to be textured by location. Textured walls are tougher to clean so you will not want to do rooms where the walls would need to be cleaned often, such as children's bedrooms or a kitchen. Living room and dining room walls are good places to add texture.
Step 2
Prepare the wall to be textured by cleaning with a sponge and a light soapy solution. Rinse and allow to dry. Surface of the walls should be clean and free of dust or dirt. You will want to lay down some type of protective covering on the floors such as a plastic tarp or old sheet to catch drips or splatters.
Step 3
Mix the drywall mud in the bucket with wooden stir stick and add water to thin it. Add a little water at a time until the consistency is just right. Stir well to mix the compound. It should resemble a thick paint.
Step 4
Dip the stippling brush in the texturing mix and lightly dab it on the wall. Start in the center and work your way outward, creating a stucco effect. A flattened scrub brush works just as well if you cannot get a stipple brush. Work your way around the whole wall until it is completely covered.
Step 5
Allow the new textured wall to dry completely. Repeat this process on all walls to be textured. Once the texturing has dried you can paint it by using a roller or paint sprayer.