A compound miter saw is a specialty table saw that is used to make angled cuts in wood and other materials. Miter saws come with a variety of blades sizes that range from 8-1/2 to 15-inches, and are manufactured by a variety of power tool companies, including Hitachi. Hitachi has incorporated a number of features to make angled cutting easier, including laser markers and digital displays that increase the accuracy of cuts. Regardless of the features included with your Hitachi saw, construction of the saw is similar to other models.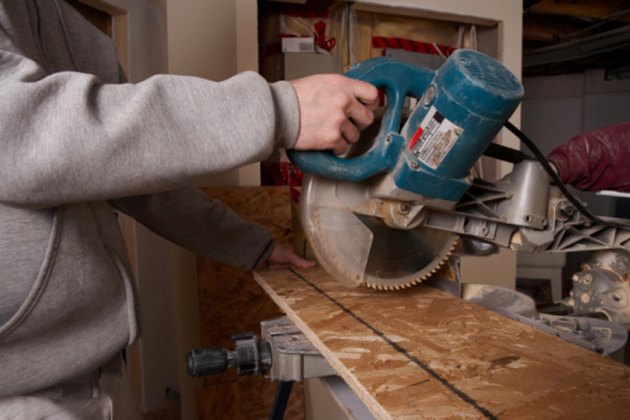 Step 1
Drill the holes for the miter saw mounting bolts into a solid work surface with a 9-millimeter drill bit.
Step 2
Position your miter saw on the work surface and align the mounting holes of the saw with the holes drilled in the work surface.
Step 3
Attach the position holder on the back of the saw, and adjust it so it sits evenly on the work surface. Tighten the 6-millimeter bolt connecting it to the saw with the 10-millimeter box wrench that was included with your saw until it is secured in place.
Step 4
Loosen the screw holding the clamp lever so it can be moved easily.
Step 5
Secure the saw to the work surface by tightening down four 6-millimeter bolts into the holes drilled into your work surface.
Step 6
Remove the M10 bolt on the right side of the saw and attach the side handle. Screw it into position until it is securely attached.
Step 7
Install the sub fence onto the right side of the saw. Insert the tip of the fence groove while inserting the M6 flathead screw that came with your saw into the sub fence, fence and plate. Secure all three pieces together with the M6 nylon nut that was included with your saw. Tighten the nut so the sub fence can still move freely.
Step 8
Lower the handle of the saw 1/2 inch and gently pull on the locking pin on the back of the saw to remove it.
Step 9
Snap the dust bag into position over the saw discharge area.
Step 10
Screw the saw vise assembly into position on the left side of the saw until it is securely attached.
Step 11
Check the miter saw's cord and blade for any visible defects, such as chipping fraying or bending.
Step 12
Verify that the trigger switch is disengaged, and then plug the cord into an appropriate outlet.