Warning
Always use caution when operating power tools, as they can cause bodily harm.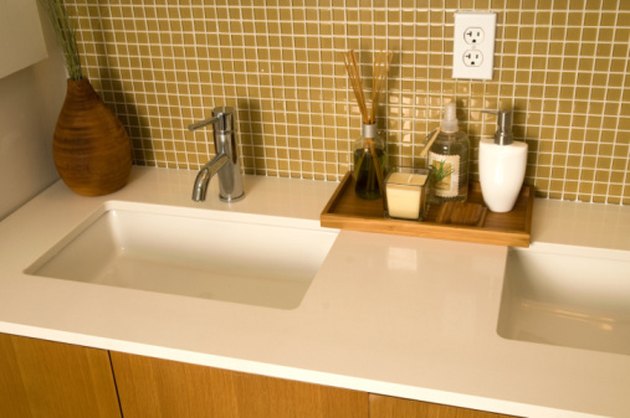 The Husky THD750L is a compact tile saw suitable for homeowners who want to tackle a do-it-yourself tile project. The saw is small and lightweight, making it suitable for small bathroom and kitchen tile projects. The Husky THD750L uses a water reservoir to feed water into the saw for cutting, unlike most larger wet saws, which use a water pump to supply water from a large bucket or tub.
Step 1
Set the saw on a flat surface where you can easily access all sides of the unit. Wet saws use water to keep the blade cool while cutting through tile and stone. This means that excess water is produced when cutting, so make sure the area you are in can get a little wet. It is best to use your saw outdoors, but it's not always necessary.
Step 2
Fill the THD750L's water tank. The reservoir has a cover lock on it to keep the tank shut during operation. Turn this lock outward to open the tank. Fill the reservoir with water to the fill line located on the wall of the tank. Close the reservoir and turn the lock inward.
Step 3
Adjust the saw's fence guard. The fence is used to guide tiles along the saw in a straight line. You can adjust the placement of the fence depending on the size of the cut that you would like to make. Once you find the correct placement of the fence, tighten the locking screw on the end of the fence by hand to lock it into place.
Step 4
Turn the saw's laser guide on by pressing the laser's "On" button on top of the saw's blade guard. This feature should be used only during operation. The laser should remain off at all other times to keep the battery from draining.
Step 5
Place a tile on the saw and line up your cut using the fence and laser. Once you have the cut aligned, turn the saw's power switch to the "On" position to begin operation.
Step 6
Push the tile slowly under the blade of the wet saw until the cut is finished.
Step 7
Turn off the saw's power switch and laser guide until you are ready to make your next cut.
---
Jonathan Shaffer has been a freelance writer and blogger since 1999. He has written concert reviews for prominent music blogs and magazines, including "Connections Magazine" in Orlando, Fla. Shaffer holds an Associate of Science in the recording arts from Full Sail University and is working on a Bachelor of Business from Valencia College.