Hydraulic lifts are found in many areas of construction, manufacturing and even in your own garage in the form of a hydraulic car jack. Bulldozers, fork lifts, airplanes and cranes all employ hydraulic lift systems. Hydraulic lift technology is renowned for its sturdiness and durability, yet after much wear and tear, problems can occur. Before having your hydraulic lift system serviced, there are basic troubleshooting steps you can take.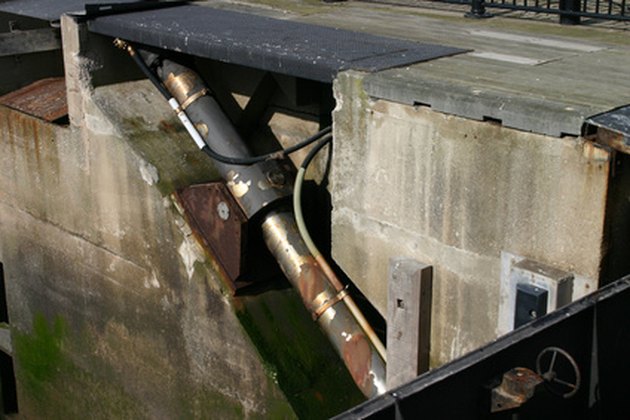 Step 1
Check all the lines and hoses for any leaks or damage if the lift lowers too quickly. Tighten the line fittings or replace them. Check for a clogged exhaust muffler if the lift lowers too slowly. Clean or replace the muffler.
Step 2
Check the hydraulic reservoir oil level if you are unable to lift, tilt or rotate the load. Fill the reservoir with oil so that it is between the FULL and ADD marks. Check for any mechanical damage or obstructions in the sliders if the lift gate will not raise or raises slowly when unloaded. The "sliders" are the poles that the lift gate runs up and down.
Step 3
Start the engine and move the controls when the hydraulic oil reservoir is full. Watch the HYDRAULIC FILTER indicator light on the instrument panel. Replace the hydraulic oil filter if the HYDRAULIC FILTER light remains lit. If it is not lit, turn the engine off and move the IGNITION switch to the LAMP TEST position to see if the HYDRAULIC FILTER indicator comes on. If it does not, replace the bulb. Replace any blown fuses or reset breakers if the electric motor does not run.
Step 4
Check the setting of the relief valve if the lift, tilt or rotation is too slow. Adjust the valve if the pressure does not read 2500-2550 PSI.
Step 5
Make sure none of the seals and "O" rings are cracked or otherwise damaged. These are the seals that hold in the hydraulic oil and create the pressure that operates the lift.