Things You'll Need
Flat iron (12 inches by 12 inches by ¼ inch)

Carpenter's crayon

12-inch speed square

Dremel with cutting discs and grinding cylinder

Small wrench

Small flat-head screwdriver

Long leather gloves

Safety glasses

Hearing protection

Face shield
Warning
Long leather gloves, safety glasses, hearing protection and a face shield are necessary when cutting and grinding metal.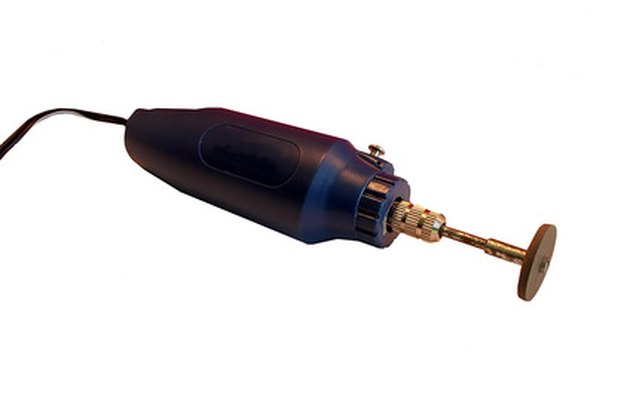 A Dremel is a popular brand-named rotary tool. Dremel makes many different styles of this type of tool as well as many different types of bits that perform different tasks. Practicing with your Dremel and each of your bits will allow you to become comfortable with and proficient in the way the tool works. Cutting and carving metal with your Dremel is possible with the proper bits and knowledge of how each tip should be used.
Step 1
Lay the iron onto a flat surface. Use your speed square and carpenter's crayon to draw the desired design.
Step 2
Slip the cutting head bit into the Dremel. Hold the lock button on the neck of the tool and tighten the retaining nut to secure the bit in the tool. Place a cutting disc onto the head of the bit. Slide the retaining screw through the disc and into the hole in the head of the bit. Tighten the screw with your small screwdriver while holding the locking button on the tool.
Step 3
Cut around the outline of your design with the cutting disc on your Dremel. Take your time and cut through the metal a bit at a time. Replace the disc as needed.
Step 4
Remove the cutting bit from the Dremel. Install your grinding cylinder. Lock the retaining nut with your wrench.
Step 5
Smooth the edges of the metal carving with the grinding cylinder on your Dremel. Go slowly and grind away any sharp edges caused by the cutting disc.
---
After learning electronics in the U.S. Navy in the 1980s, Danny Donahue spent a lifetime in the construction industry. He has worked with some of the finest construction talent in the Southeastern United States. Donahue has been a freelance writer since 2008, focusing his efforts on his beloved construction projects.