Tip
Determine the angle for mitering trimwork by dividing the inside or outside angle dimension in half. For example, if the angle finder shows that a corner is 91 degrees, miter the end of each trim board at 45.5 degrees. When fitted together the boards will form a 91-degree angle.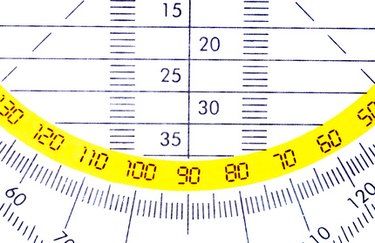 Angle finders use two hinged arms and an integrated protractor-like scale or digital device to read the angles of both inside and outside corners. When using an angle finder, the surface you are checking must be free of high spots and debris, and the protractor arms must be straight to ensure an accurate reading.
Step 1
Loosen the center locking nut located where the arms of the angle finder meet.
Step 2
Push the arms of the angle finder into an inside corner, whether it's two walls, two pieces of molding or other elements forming a corner. Make sure both arms are resting fully on their respective surfaces.
Step 3
Tighten the locking nut to secure the arms' positions.
Step 4
Read the angle dimension aligned with the reference line on the protractor, or read the digital display.
Step 5
Measuring outside corners using the same technique, placing the angle finder over the two sides of the corner.
---
C.L. Rease , based in Texas, has been a professional construction and outdoor writer since 2003. His articles have appeared in The News-Press, a local Southwest Florida newspaper and a small Southwest Florida fishing magazine. Rease served a four year apprenticeship to become a union sheet metal journeyman and earned a construction management degree from Florida State University.