Things You'll Need
Small Phillips screwdriver

Masking tape
Tip
Retracting the full length of the tape at a fast speed may make the spring release from the end of the tape inside the measuring tape case.
Clean any dirt out of the case while it is open with an air compressor or a can of compressed air. Dirt or sand in a case binds the tape as it retracts and extends, and causes nonfluid movement.
Occasionally check the screws on the measuring tape case, and tighten them if they are loose, so the case is secure at all times.
Warning
Springs that are stretched will not retract the tape fully into the case. If the spring does not operate properly after attaching it to the tape, replace the spring.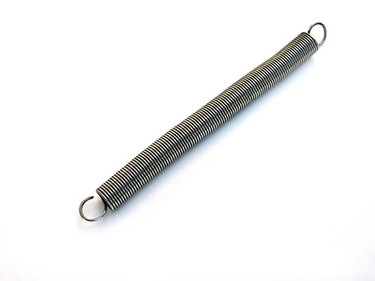 Stanley LeverLock measuring tapes are a bright yellow color for easy location in toolboxes or bags. The 12-foot tape includes a belt clip for carrying, and a hook on the tip with a hole in it for drawing circles and pivot points on materials. A measuring tape includes a spring inside the case to retract the tape after use. The spring hooks onto the innermost end of the tape, and sometimes jars loose so that it does not retract.
Step 1
Hold the Stanley LeverLock measuring tape in one hand with the screws pointing up. The screws are on the back of the tape measure with the belt clip.
Step 2
Use a small Phillips screwdriver to loosen the screws. Pull each screw straight out of the measuring tape, and carefully set them aside.
Step 3
Set the measuring tape on a table. Remove the cover by pulling it straight up.
Step 4
Hold one hand lightly over the tape in the tape measure, and pull the tape out slowly to its full extension.
Step 5
Press the tape lock button to hold the tape in place.
Step 6
Connect the spring in the middle of the case into the hole in the measuring tape end. Bend the spring so it holds the tape tightly.
Step 7
Place a small piece of masking tape on the junction of the spring to hold it in place.
Step 8
Place the cover back on the measuring tape, insert the screws, and tighten them in a clockwise direction with the Phillips screwdriver.
Step 9
Hold one hand on the tape protruding from the tape measure, and release the lock button with the other hand.
Step 10
Hold pressure on the tape with one hand to slowly retract the tape into the case.
---

Mary Lougee
Mary Lougee has been writing for over 10 years. She holds a Bachelor's Degree with a major in Management and a double minor in accounting and computer science. She loves writing about careers for busy families as well as family oriented planning, meals and activities for all ages.