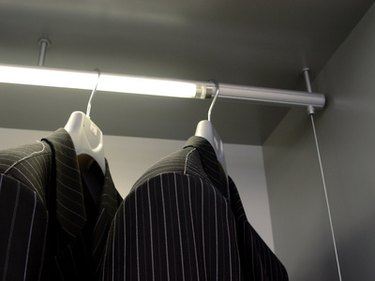 Adding or remodeling a walk-in closet is a finishing touch that adds elegance and convenience to your home. The type of flooring that you consider will have a significant impact on the overall comfort level and usefulness of the room. The way you intend to use the closet will have an impact on the type of flooring you should choose. The wrong floor choice could lead to a closet that's uncomfortable and under-utilized, but the right choice will fit your lifestyle and could improve the daily process of getting dressed.
Carpeted Flooring
Installing carpeting in your closet is the most inexpensive choice and can be completed when the rest of the bedroom is carpeted. This installation technique will allow for a seamless look throughout the room. Carpeting is warm to the touch, even in cold rooms, but generally does not appear as upscale as some of the other flooring alternatives. Use this type of floor covering if you are on a tight budget and want a warm, soft surface under your feet each morning.
Radiant Heat Tile Flooring
Radiant heat flooring is made up of ceramic tiles that contain electric heating wires that run in channels underneath. The heat level is controlled from a knob on the wall near the floor and can be left on all winter, since these floors use only a small amount of electricity. This is a more pricey option for closet flooring, but if you frequently enter your closet barefoot, this tile provides a warm surface that it easy to clean and maintain.
Laminate Wood Flooring
Laminate wood is an inexpensive alternative to gaining that wood-floor look in your closet without having to pay for a wood floor. This type of flooring is easy to clean, and holds up well to daily wear-and-tear. Since this is a man-made material, it may be cold on your feet in early winter mornings, so if you frequently intend to enter your closet without slippers, you may want to avoid this type of floor.
Hardwood Flooring
A hardwood floor in your walk-in closet can add an elegant detail to this small room in your home. Wood flooring is not as cold on your bare feet as laminates or tile through its natural properties as an insulating material. Select a wood that matches the rest of the installations in the closet. This type of flooring should be used in showpiece closets, and should be avoided in areas for children, as it tends to scratch more easily than other types of flooring. This is the most expensive choice for closet flooring.
---
Joshua Black is a business writer, copywriter and blogger who began his professional writing career in 2000. He has written numerous eBooks and has articles published on various websites and ezines on topics in small business, marketing, sales and sports. He holds a Bachelor of Science in industrial design from Western Michigan University.