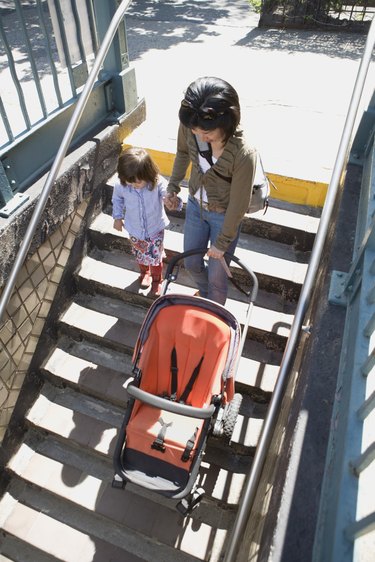 Though its complexity requires some expertise to build, a stairway is the easiest and most efficient way to let people to travel between floors. It demands solid construction so it can support hundred of pounds, and yet must precisely connect surfaces separated by many feet. Banisters support rails that keep people from falling from stairs. Local building codes define the heights of banisters.
Definitions
Local building codes typically define the minimum dimensions of stairs and their associated rails, banisters, landings and other structures. Many take their cue from the International Building Code, a set of building standards created by the International Code Council. This organization helps jurisdictions define construction rules and regulations that "protect the health, safety and welfare of people." The banisters are posts that raise the handrail from the stair treads. Codes do not generally define the height of banisters, but it is possible to calculate by subtracting the thickness of the handrail from its height, which is defined by codes.
IBC Heights
Section 1009 of the IBC puts the height of a handrail at from 34 inches through 38 inches. It also defines the outside diameter of rails with circular cross sections as between 1.25 inches and 2 inches. Non-circular handrails must have a perimeter of between 4 and 6.25 inches, with a maximum cross-section of 2.25 inches. Assuming a handrail thickness of 1 inch and a handrail height of 36 inches, the height of the stair banister is 35 inches from the top of the stair step to the bottom of the handrail.
State Differences
An example of a state code is that of California, which follows most parts of the IBC. Section 1012, for example, specifies that the height of the handrail be from 34 to 38 inches. The dimensions of the rails in California's code are the same as the IBC. Rails with circular cross sections need an outside diameter of between 1.25 and 2 inches. If they are not circular, they need a perimeter of 4 to 6.25 inches, with a maximum cross section of 2.25 inches. Assuming a rail thickness of 1.5 inches and a rail height of 37.5 inches, the height of the stair banister is 36 inches.
Influences
Other indirect influences on railing height, and subsequently banister height, include intermediate handrails, which ensure that all parts of a stairway width are within 30 inches of a handrail. Handrails must appear on both sides of the stairway, and the gripping surface must be continuous and uninterrupted by banister caps. The minimum clearance between a handrail and a wall or other surface is 1.5 inches. The maximum distance between banisters up to a height of 34 inches must not be big enough for a 4-inch diameter sphere to slip through. This distance prevents a child from sticking his head through and possibly choking to death.
---
Aurelio Locsin has been writing professionally since 1982. He published his first book in 1996 and is a frequent contributor to many online publications, specializing in consumer, business and technical topics. Locsin holds a Bachelor of Arts in scientific and technical communications from the University of Washington.