The interior of your mobile home is a versatile palette that will accept many changes. Remodeling a mobile home will add to the beauty and value of the property. You can change the floors, walls and ceiling with drywall, paint or tiles. Not all building materials are suitable for the structure of a trailer, though. The trick to a successful remodeling project is to find the type of materials that will do the job while sticking to the color and pattern schemes in your design.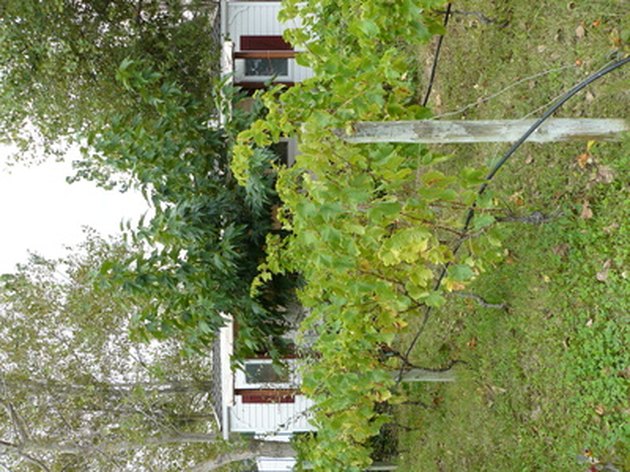 Step 1
Remove the existing carpeting by cutting it into strips with your razor knife. Pull the strips of carpet free and discard them. Remove and discard carpet padding. Pry tack strips off of the subfloor with your nail puller and hammer.
Step 2
Remove drawers and cabinet drawers. Use your screwdriver to take the handles and hinges off of the drawers and cabinet doors. Scrape up the tiles and vinyl flooring with your 5-in-1 putty knife. Bust ceramic tiles with your hammer and cut vinyl with your razor knife where necessary. Discard old cabinet hardware, tiles and vinyl.
Step 3
Sweep the subfloor with your broom. Cover the floors and counter tops with drop cloths. Turn the power off to the entire mobile home at the breaker box. Remove the lights and vents from your ceiling with your screwdriver.
Step 4
Open the doors and remove the screws from the wall side of each hinge. Lay the doors onto the drop cloths and remove the hinges. Dispose of the hinges and screws along with the switch covers and face plates.
Step 5
Sand the doors, cabinet doors, drawers and the cabinets themselves with your palm sander. Wipe each piece with a rag to remove dust and debris. Slide the roller screen inside the 5 gallon bucket of paint.
Step 6
Coat the ceiling, doors, cabinet doors, drawers and cabinets with primer. Apply three coats of paint to each primer covered surface. Let each coat dry for two hours before the next application.
Step 7
Sand the wall paneling with your palm sander. Wipe the walls with a clean rag to remove dust. Use your caulk gun to apply a bead of caulk into each seam between the wall panels. Smooth each bead of caulk with a wet rag.
Step 8
Apply wallpaper adhesive to the walls with a 3-inch paint brush. Press wallpaper into the adhesive. Cut the paper as necessary with your razor knife. Smooth the paper with your wooden wallpaper roller. Take your time and line up the patterns.
Step 9
Add your new cabinet hinges, handles, door hinges and door knobs to the cabinets, drawers and doors. Install the doors, drawers and cabinet doors with new wood screws. Install new switch plates and outlet covers with new retaining screws.
Step 10
Sweep the floors with your broom. Cover the floors with the self-adhesive tiles. Cut he tiles with your shears as necessary.