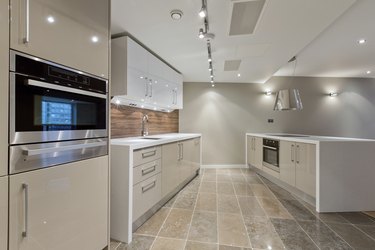 Though wood and carpet can work as flooring choices in a living area, bathroom or kitchen, they can suffer from moisture penetration and rot while attracting insects. Stone and ceramic tile are more impervious to water and insect damage and can add textural interest. Tile skirting is an option that enhances the look of the material.
Basics
Whether made of ceramic or stone, tile offers many advantages as a floor covering. It comes in several styles and choices, withstands heavy impact without deforming, resists water, is easy to clean and maintain, and can either be repaired or replaced. These properties stop, however, where the tile meets the wall. The joint between the horizontal and vertical surfaces may be unattractive to look at and suffer from the disadvantages of the wall surface, such as water damage, discoloration or deformation. Molding made of the same material as the wall can hide and decorate the joint. But tile skirting can continue the advantages of tile up the wall.
Description
While it may seem logical to continue floor tile up a wall to act solely as a protective border, ordinary tile lacks finished edges and requires extra effort to decorate those edges. Matching tile skirting, on the other hand, is specifically designed as a wall border and has finished edges. Many tile sets already have skirting options, or you can buy the skirting separately in several colors and designs.
Installation
Tile skirting is installed in the same way as any other type of tile. The wall surface must be smooth, level and clean. You can dry-fit the skirting by laying it on top of the floor tile and up against the wall. You can also cut the skirting tile with the same cutters you used on the floor version. Add backer board as needed, spread the adhesive on the board and press the skirting tile into the adhesive. You can insert plastic spacers between tiles to maintain consistency. Wipe off any excess adhesive and then use a mallet and leveler to set the tile into the adhesive. Grout the joints using the paste you used for the floor tile. Wipe away any excess grout. Once the grout has cured, apply grout sealer as needed.
Options
While more commonly used to finish a tile floor, skirting tiles can also be used by themselves without an accompanying tile floor. You can use them on the risers or sides of stairs as a decorative touch. And you can welcome visitors to your home by using them at the bottom of interior and exterior entry spaces. Finally, you can use them as a border on the walls surrounding cement patios and porches.
---
Aurelio Locsin has been writing professionally since 1982. He published his first book in 1996 and is a frequent contributor to many online publications, specializing in consumer, business and technical topics. Locsin holds a Bachelor of Arts in scientific and technical communications from the University of Washington.