Extend your living area and make the most of small spaces: Turn your balcony into a sunroom or an attractive reading nook by enclosing it with glass. The solar properties of glass will keep the room warm in winter, and if you install coated glass, you can help repel the heat in summer. Enclosing the balcony can also act as a noise buffer, if you live on a busy street or overlook a school or park.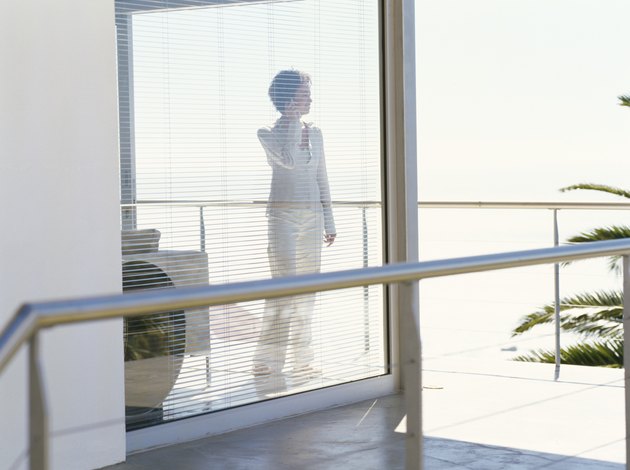 credit:
Ciaran Griffin/Stockbyte/Getty Images
Step 1
Find out from your local city authorities whether you need a permit to enclose the balcony of your home. If you live in an apartment building, you will also need permission from property management, which may be subject to the rules of the homeowners' association. In such a case, the association may also have specific rules regarding the materials you can use.
Step 2
Measure the size of the windows you need. The measurements will determine whether you can purchase frames in a standard size or if you will need custom-made products. You may need to extend the roof above the balcony or install flashing above the glass panels to ensure a watertight fit.
Step 3
Decide on the type of framework you will install. This depends on the material from which your balcony is constructed. If you have a brick balcony with a wall, you can mount any type of frame against the wall to hold the glass; however, if you have an open balcony with a railing, you will have to either remove the railing or mount the frames on the floor just inside it.
Step 4
Purchase frames ordered to size. Vinyl and wooden window frames are commonly used for residential purposes, while aluminum is preferable for commercial buildings because it is believed to be a more effective sound barrier. You can buy a sunroom kit complete with frames, glass and accessories for enclosing the balcony, or you can order the individual components yourself if you have the knowledge.
Step 5
Remove the existing railing of your balcony, if one exists. Install the frames against the balcony ceiling and sidewalls, with the base attached to either the top of the balcony wall or the floor where the railing was connected. Alternatively, install the glass just inside or outside the railing, which will enable the railing to act as a safety measure.
Step 6
Fit the glass into the grooves in the frames and tighten the frames at the corners. Check the seal by holding a stick of burning incense near to the frames; if the smoke dances, it could indicate a draft or air leak. Squeeze spray foam insulation into any corners that might have gaps causing drafts.
Step 7
Paint or varnish wooden frames to protect them from the elements. Use colors that will blend with your home's decor. Furnish your enclosed balcony and begin enjoying your sunroom.