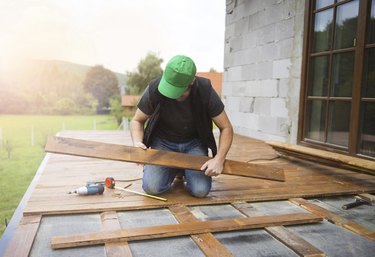 There is no victor when pine and oak square off in a contest. Even though there are differences in cost, durability and appearance, the match is determined by function, design and personal taste.
Dents and Dings
Pine is softer than oak and acquires dents and scuffs more easily. But that doesn't mean pine is less desirable than oak. The natural accumulation of dents, dings or small holes creates distressed pine. Distressed wood is sought out by some homeowners, and designers go to great lengths to achieve it by beating wood with chains or other small tools. If you're concerned that pine is too soft, wait a few years. Pine fibers compress over time, yielding a harder, more dense surface, particularly in areas with high traffic. Pine may have the longevity of oak even though it changes character as it ages. Some pine floors installed 300 years ago are still in service, and reflect the natural distressed look contemporary home designers imitate.
Patterns and Colors
Oak has an array of grain figures ranging from tight, closely spaced lines to broad, curly flame patterns. When oak flooring planks are assembled randomly, the flooring evokes texture and depth. Pine has fewer distinct grain patterns than oak. With broad areas streaked with swaths of brown, pine lacks the consistency of oak. Depending on grade, pine typically has knots, while oak has few knots if any; color variations are fewer and less distinct than pine. Oak can range from light brown to gray to pinkish when finished naturally without stain. Pine is typically amber in color when finished naturally. Oak is the better choice if you prize consistency and uniformity, and pine is more pleasing if you prize random patterns.
Two Pines
Two groups of pine are used for the majority of pine flooring -- heart pine and standard pine varieties. Heart pine is milled from the center of very large trees that are becoming scarce and hard to find. Another source of heart pine comes from reclaimed lumber, such as beams or structural lumber. Old reclaimed or restored heart pine flooring may be called antique heart pine. Standard pine flooring typically is harvested domestically from smaller trees or from the outer portions of large trees. Heart pine is more desirable than most standard varieties because of its hardness and exclusive stature.
Two Oaks
Two species of oak typify flooring choices: red and white. Red oak is more common than white oak. It's less dense and has a bold grain pattern that curves and dips more than white oak. Red oak has a pinkish to brownish tint. The inherent hardness of white oak places it near the top of the list of hardwoods. With a straight, uniform grain pattern that varies less than red oak, white oak is preferred for high-end floors. Without stain, white oak has a grayish tint. White oak also emits a familiar perfume scent that's absent from red oak when cut or milled.
---
Specializing in hardwood furniture, trim carpentry, cabinets, home improvement and architectural millwork, Wade Shaddy has worked in homebuilding since 1972. Shaddy has also worked as a newspaper reporter and writer, and as a contributing writer for Bicycling Magazine. Shaddy began publishing in various magazines in 1992, and published a novel, "Dark Canyon," in 2008.