Things You'll Need
Shovel

Pick

Wheel barrow

Buckets

Masonry hammer

Trowel

Level

Plumb-line

Pry bar (crow bar)

Sledge

Concrete or grout

Ceramic flue tile

Cinder chimney blocks
Tip
Install a chimney cap to keep moisture from entering the chimney. Direct the slope of the chimney cap away from the flue to divert moisture run-off. The chimney cap should overhang the chimney wall by 2 to 3 inches and should have a drip edge. Because the chimney flue and the cap have different thermal expansion characteristics, leave a void between them. Fill the void with a compressible material and caulk. This method allows both materials to shift independently, and the sealing caulk will keep out moisture.
Warning
Mortar used for your stone chimney project must be protected from freezing for at least 48 hours after installation. Do not work with concrete when the temperature is likely to fall close to freezing. To withstand the high heat it may be exposed to, be sure and use refractory mortar.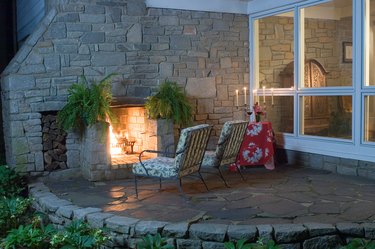 Warming your home with wood heat requires a chimney. A stone chimney crafted from native field stone, adds rustic charm and function. Hiring a professional contractor to build a stone chimney or fireplace is expensive. Attractive stone is difficult to locate and gather, and there is a large amount of intensive labor and skill required for quality construction. However, building a stone chimney is an excellent project for the experienced do-it-yourself homeowner. A well-crafted chimney will add grace and value to your home for decades.
Step 1
Select the stone. Stone may be purchased from a home and building supply center or rock quarry. You may elect to gather the stone in the wild. If gathering stone on United States Forest Service-managed lands, a rock permit is required. Research various types of stone to determine the shape, color and soundness of various types of rock available in your area. Building stone is available in many different textures, shapes, sizes and colors. Secure the stone and transport it to your building site.
Step 2
Sketch out a plan for your chimney design. Verify that your design conforms with local building codes and restrictions. Always follow all safety guidelines. The majority of local building codes are based on the National Fire Protection Agencies 211 standard for fireplaces, chimneys, vents and solid fuel burning appliances. Call 1-800-344-35555 to request a copy of the code. For fires safety, make sure that the chimney height is greater than 3 feet above the highest point where the chimney intersects the roof line or at least 2 feet higher than any portion of the building or adjoining buildings within 12 feet of the chimney.
Step 3
Build a solid foundation for your chimney or fireplace and chimney. A floating foundation of reinforced concrete poured on 8 to 10 inches of gravel will work fine in warm climates. Locations that receive very cold weather should pour a foundation 5 to 7 inches below the frost line.
Step 4
Line stone masonry chimneys with ceramic flue tile. Tile is available in several sizes. Choose the correct size for your chimney. The ceramic flue tile expands and contracts in reaction to heat and cold. Mortar the flue tiles at the same time as you mortar the cinder blocks so that both the outside and inside of your chimney are built at the same time, layer after layer. As you install the cinder blocks, include corrugated metal tabs placed so that they protrude from the outside of the tiles.
Step 5
Break up your joints in the wall. Make sure to keep the joints in each layer of stone from coinciding with those in the layer above or below. Lay a stone over each joint and then fill the space between the stones with smaller stones. Overlapping joints will add strength and stability to the chimney.
Step 6
Face the chimney with field stone, mortared in place by free stacking. As you stack the rocks, stagger the joints to add stability and strength to the chimney. Place cap stones, mortared in place at the top of the chimney and install a chimney cap.
---
A passionate writer for more than 30 years, Marlene Affeld writes of her love of all things natural. Affeld's passion for the environment inspires her to write informative articles to assist others in living a green lifestyle. She writes for a prominent website as a nature travel writer and contributes articles to other online outlets covering wildlife, travel destinations and the beauty of nature.