Things You'll Need
6-by-6 inch pressure-treated posts

Bagged "mix it yourself" concrete

2-by-6 inch pressure-treated boards

1-by-12 inch pressure-treated boards

10d nails

Hammer

Shovel

Circular saw

Carpenters level

Measuring tape

Tar paper

Roofing shingles

Gravel (optional)

Paint (optional)
An open three-sided shed is a fairly simple structure to build, but can provide a great deal of utility around a home or garden. It's useful for storing machinery, tools or supplies like potting soil and mulch while providing some protection from the weather. Because of it's simple design and simple materials, it doesn't cost much to build either.
Step 1
Measure out and level an area that is 6 feet by 6 feet. If you wish, remove 2 inches of top soil and fill it with fine gravel to prevent the area from becoming muddy when it rains.
Step 2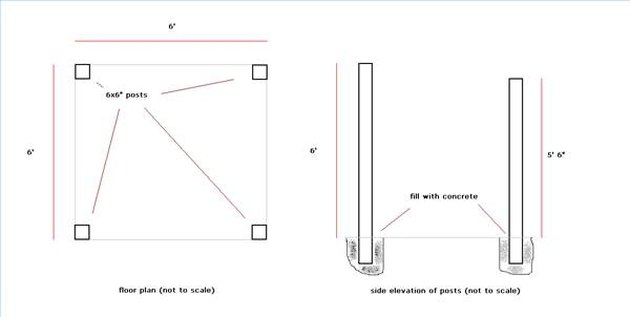 At the corners of the leveled area, dig four post holes, 12-16 inches deep. Cut four pieces of 6-by-6 post and fit them into the holes. The front two should be 6 feet tall above ground level, and the back two should be 5 1/2 feet above ground level. Fill in around the posts with cement, making sure they are straight with your carpenters level, and allow the concrete to set for at least one day. Refer to the diagram.
Step 3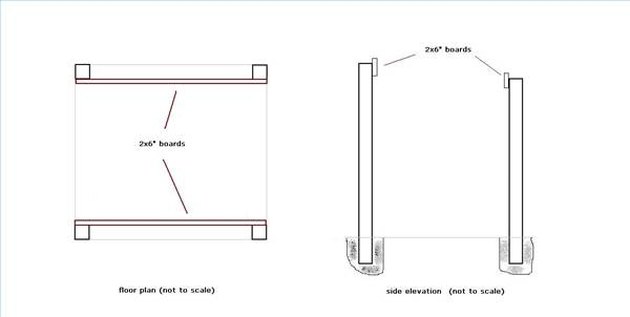 Nail a 2-by-6 inch board across the front and back posts so that it extends over the height of the posts by 2 inches. Refer to the diagram for exact placement.
Step 4
Cut 1-by-12 inch pressure-treated boards to size, and nail them to the posts to cover the sides and back of the shed. Start with the first pieces 1 inch off of the ground--this will prevent moisture in the ground from causing rot prematurely.
Step 5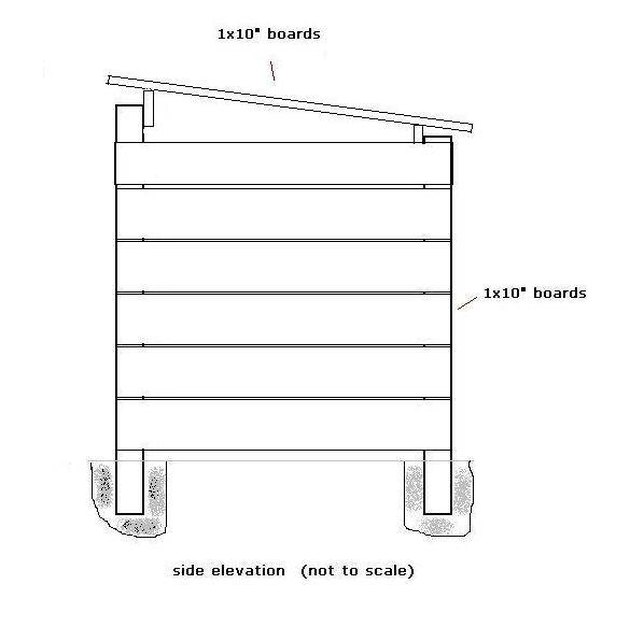 Nail 1-by-12 inch boards across the 2-by-6 inch boards to create a sloping roof, from front to back. Allow an overhang of at least 1 inch on the front, back and side, more if the climate is particularly wet.
Step 6
Cover the roof with tar paper, and secure it with staples or roofing nails. If you wish, add shingles to the roof. Put your first row of shingles at the lower edge of the roof, then overlap by 1 inch as you add rows.
---
Based in Virginia, Nichole Liandi has been a freelance writer since 2005. Her articles have appeared on various print and online publications. Liandi has traveled extensively in Europe and East Asia and incorporates her experiences into her articles. She holds a Bachelor of Arts in history from West Virginia University.