Shutters are a great way to make a statement or add a pop of color to the exterior of your home. From classic black vinyl to louvered wood, shutters can bring a fresh new look to any façade. Installing shutters on a brick house is easy if you follow a few simple steps.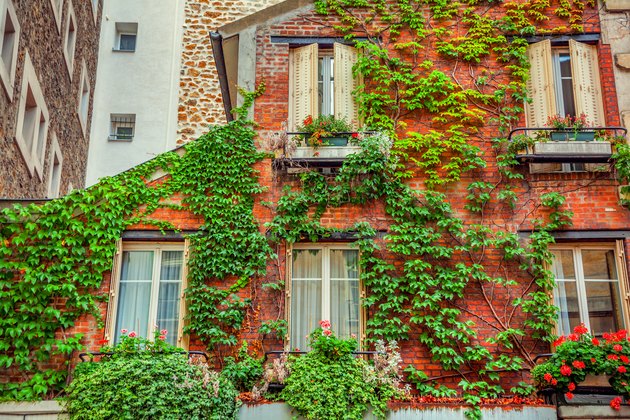 Decide Where to Drill
Before you begin, take inventory of your personal protective equipment. You'll need safety glasses, gloves and a respirator to avoid breathing in dust. Then, consider whether you'll drill the holes to install your shutters directly into the brick or into the mortar. Although brick tends to offer more support than mortar, this isn't always the case. If your brick is old, cracking or showing signs of aging, you may prefer to drill into the mortar.
Drilling Pilot Holes for Functional Shutters
If you have traditional shutters that open and close, start by propping up your shutters inside the window opening in the closed position, using wood shims to keep them in place. Then, take the hinges and align them along the outer side of the shutters. Use a marker to pinpoint where you'll drill each pilot hole.
Next, begin drilling into the brick or the mortar using a carbide-tip drill bit. Keep the bit rotating as you remove the drill from each hole because this helps clear away dust and debris.
Drilling Pilot Holes for Decorative Shutters
Some decorative shutters come with pre-cut holes for installation, but others don't. If your shutters already have holes for installation, you can drill pilot holes through the pre-cut holes into the house, using a carbide-tip drill bit designed for masonry.
If your shutters don't come with pre-cut holes, you'll need to drill holes in the shutters before you can move on to the pilot holes. In general, you will have four holes on a shutter shorter than 55 inches (one hole in each corner of the shutter) and six holes for shutters longer than 55 inches (one hole in each corner and two more on either side in the center of the shutter). After you've drilled holes in your shutters, use a carbide-tip drill bit to drill pilot holes through the brick or the mortar.
Securing your Shutters
Use an air compressor to blast out any remaining dust or debris in your pilot holes. If your shutters came with masonry fasteners, tap the fasteners into the holes using a hammer. If your shutters didn't come with fasteners, insert a masonry anchor into each hole before screwing in your shutters and completing the installation.
---

Lauren Sieben
Lauren Sieben is a freelance writer based in Milwaukee. Her work has appeared in The Guardian, Washington Post, Brit + Co, POPSUGAR and other outlets.