Things You'll Need
Building permit

2- by 12-inch lumber boards

2-by-4 lumber boards

Concrete for flooring

Cinder blocks for foundation

Electrical wiring

Light fixture

Garage door

Expert carpenter

Electrician

Garage door

Side exit door

Door jamb kit

Exterior grade plywood

Particle board sheeting

Garage door tracking

Attic trusses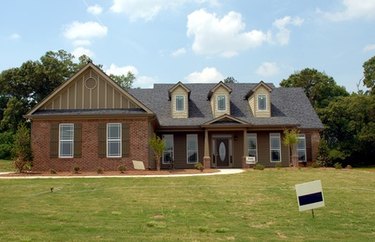 Adding a garage to an existing home or building requires a well-thought-out design. You don't want to compromise the market value of the existing building. Ask a builder to help you sketch the shape of the new garage and pay particular attention to the roof line. The best design is to make the garage look as if it has always been part of the home. Adding a garage to an existing building might require you to remove part of the roofing on the building for attachment. Work in good weather to avoid rain coming into an existing home or building.
Step 1
Ask a master carpenter to help you evaluate the house or building already in place. Measure the space you have available for garage. Sketch how to tie the new garage roof into the existing roof line. Draw a detailed plan on graph paper, using one square to represent 6 inches of real space. Enlist the help of an architect if the building is upscale. You don't want a garage addition to look inferior to the original architecture.
Step 2
Acquire a building permit and list of building codes for a garage addition. Engage workers to dig footings for the garage and pour concrete to support the foundation. If the garage is on a sloped area, you will need to add cinder blocks to create a garage foundation that is level and ready for the concrete floor. Use gravel to bring the garage floor level before calling a concrete supply company. Pour the floor and enlist carpenters to build side walls and framing for the garage. Buy attic trusses to support the roof.
Step 3
Create the garage framework for the area below the roof line. Use 2- by 12-inch lumber boards for framing. Remove existing roofing material or siding on the existing structure very carefully. Prying into framework to attach your new garage can easily damage a home or building. Engage experts to assist in this. Be careful to avoid electrical wiring and plumbing pipes as you remove siding or roofing. Hoist the attic trusses into place using manual labor or lifting equipment rented and brought on site.
Step 4
Enclose the exterior with brick or masonry siding and nail on exterior-grade plywood or particle board for the roof. Build overhangs and install asphalt shingles or a metal roof. Always place guttering on the garage with downspouts and splash blocks. Rain runoff will damage the foundation of a garage.Call an electrician to install all electrical wiring in garage. Have light fixtures put in place and electrical outlet boxes installed. Insulate exterior wall areas of the garage if desired.
Step 5
Nail drywall over studs and in the ceiling areas. Place roll-type insulation in the ceiling area if you will spend time in the garage working on cars or performing other work in cold weather. Consider installing a small heater in the space. Hang an exterior garage door and the main garage door on metal tracking. Paint the exterior of the garage with high-quality exterior paint. Put on two or three coats to preserve the surfaces more effectively. Paint the garage door if needed. Install a garage door opener.
---
Judi Light Hopson is a national stress management expert and psychology issues writer. Her column on relationships, co-written with a nurse and a psychologist, is distributed by McClatchy Newspapers to over 300 major publications worldwide. Ms. Hopson has written for employee assistance programs that serve over 15% of America's Fortune 500 companies. links provided below.