Most double-wide mobile home exteriors are adequate, satisfying the needs of consumers that want an inexpensive home. Unfortunately, due to being mass produced, they are also quite bland in appearance. They do not have much individuality, most are simply made with vinyl siding in predetermined colors. By applying different exterior treatments, a mobile home can be transformed into an individualized ambiance, and as an added bonus, the resale value may be increased as well.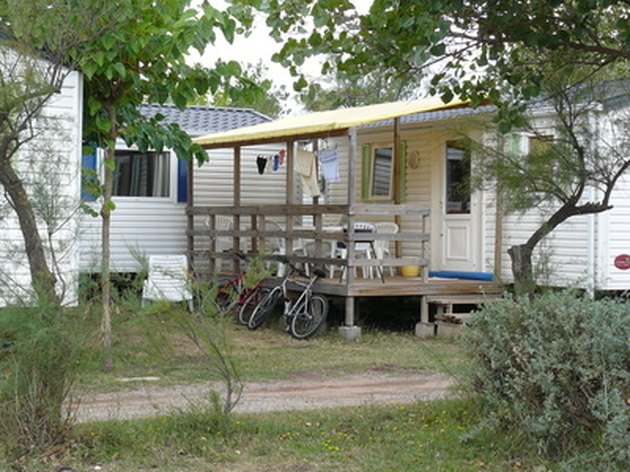 Shutters are a quick and easy method of improving a double-wide's appearance. Shutters add a little more eye appeal to windows, and provides for good eye movement. These are available in a variety of styles and colors, and most home improvement stores carry them.
A covered porch is another great way to improve the appearance of a double-wide. The porch itself can be constructed more like a deck with a light covered translucent roof, usually made of FRP (Fiberglass Reinforced Panels), which are readily available at many home improvement stores. Talk to a qualified builder or remodeler and develop some ideas on covered porches with them. If designed and built correctly, this can add greatly to the appearance of a mobile home.
Awnings are a quick and easy way to add to a double-wide's appearance. They come in a variety of styles, and are durable. Many styles are available, and a do-it-yourselfer can install them quickly.
There are many siding products today that look like wood but are far more durable than wood. Unlike vinyl siding, they don't look "bland," but rather have texture and grain patterns, which add visual appeal.
You can combine several ideas for a truly individualized look. For example, you can add shutters, wooden-looking siding or panels, awnings and a covered porch. By designing all of them right, and using matching paint schemes (use different shades or tints of the same base color), your home will stand out. If you wish, contact a professional designer to help out with the color schemes.