Manufactured homes are popular alternatives to stick-built houses. They are brought in by truck and set on a foundation, but once established on the property, a manufactured home really is a "regular" house. However, the house still looks like a manufactured home. With the addition of paint, a new front door, a porch, landscaping and other decorative elements, a manufactured home might be indistinguishable from a stick-built home.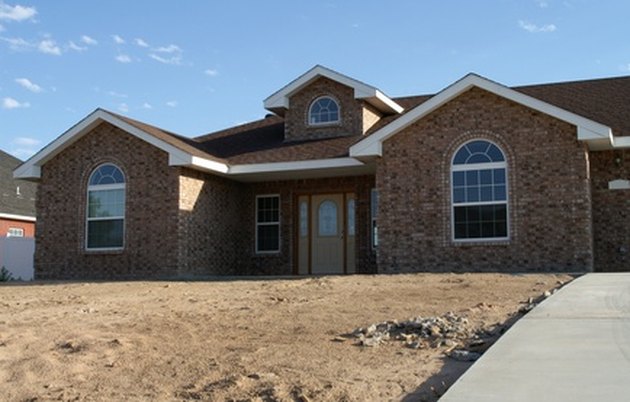 Step 1
Research housing styles. For example, most manufactured homes are built in a ranch style, so start by focusing your research on classic ranch houses. Popular on the West Coast, versions of the California ranch house were designed by many famous architects, including Cliff May, Joseph Eichler and Frank Lloyd Wright. On the East Coast, colonial and Dutch colonial styles are also common.
Step 2
Paint the exterior. Paint is relatively cheap and makes a statement about your personal style. Whether you choose a deep tone from the Eichler palette or a 1950's atomic aqua, changing the manufacturer's basic beige will immediately change the character of your home.
Step 3
Change the front door. A new door in your chosen style or a vintage door from an architectural salvage warehouse gives your entry a new look.
Step 4
Build a porch. Adding a porch or a simple patio provides a place to sit and watch the world go by, just like a stick-built house might have. Do-it-yourself plans are available in books, magazines and online. You can hire a contractor to build a covered porch. It may require city or county permits and building plans. A contractor is familiar with building codes and the local building inspectors.
Step 5
Plant a new landscape. Bushes concealing the raised foundation, a tree in the front yard, flowers along the walk and a flowering vine growing over the porch--all welcome you and your visitors to your home. A carefully planned landscape will set your manufactured home into the property. Adding a fence, arbor and gate are lovely finishing touches to your exterior renovation.