Deck handrails are an important design and safety feature. All states have safety requirements for deck building, and require that you check with your local building authority prior to adding a new deck to your property. All deck railing specifications have height, load and picket spacing requirements.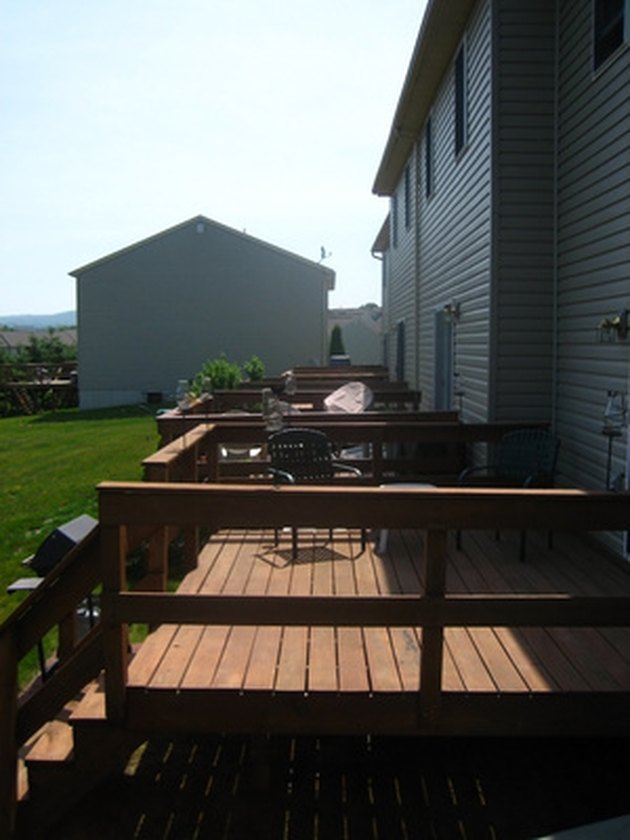 According to deck construction experts at Titan Building Products, based in Ogdensburg, New York, specifications for deck rail height vary from 32 inches to 48 inches. Handrails must be present on both sides of stairs and be a height of 34 to 38 inches. Stairs must be 43 inches or wider.
The deck railing must be able to withstand a 200-pound load test, meaning the top rail must be able to sustain the maximum weight of pressure when applied in any direction to the rail. Each square foot must be able to handle at least 125 pounds of pressure, according to specs from Titan Builders and building requirement specs from the city of Berkley, California.
Picket Spacing Requirements
Pickets are the decorative vertical railings located between the support posts. Pickets should be spaced no wider than 4 inches apart to prevent falling and choking hazards.
Material used to construct the railing must be 1.5 to 2 inches in either width or thickness. Deck railing is one of the most visual aspects of your deck, but aesthetics do not have to be sacrificed for the sake of safety. Wood, iron and other attractive materials are available for deck rail construction.
Decks.com offers glass and plastic panels in its deck designs to add visibility and beauty. The manufacturer states that if glass or plastic panels are applied to the deck railing, they must be made of tempered glass or plastic that is shard proof and falls into tiny pieces when broken.