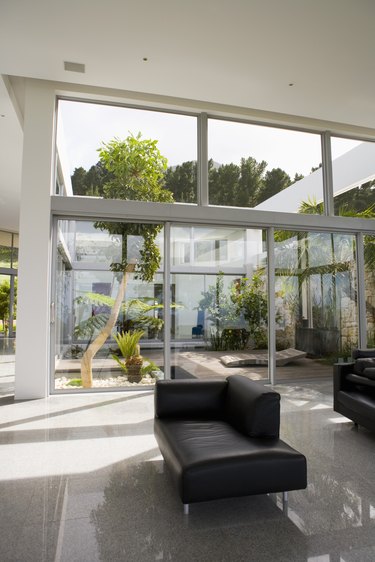 Insulated and laminated glass is used when regular glass is not strong enough, safe enough and energy-efficient enough for homes and businesses. Both are custom ordered, and cut to fit openings for everything from glass walls in businesses to doors and windows in homes to windshields in automobiles. Insulated and laminated glass also reduces short-wavelength UV radiation to protect interior contents inside of residences and offices, and provides a soundproofing barrier from street traffic and other noises.
Insulated Glass
Insulated glass units, also referred to as IGUs, are basically multiple layers of glass panes that are sealed together. They have a very small gap in between the panes which serves as insulation to prevent heat transfer from the outdoors to the indoors. During the manufacturing process the air space in between the glass panes is dried, and the panes are sandwiched and sealed together to prevent and reduce condensation and to form one airtight and solid unit.
Laminated Glass
Laminated glass is produced by sandwiching a tough plastic inner layer made of polyvinyl butyral in between two pieces of glass. The three materials are permanently bonded together to form one solid unit. The inner layer is invisible to the naked eye, and forms a chemical and mechanical bond with the glass. Laminated glass cuts as much as 99 percent of UV radiation penetration. Industry professionals commonly refer to it as "safety glass." Businesses that have a street-level presence use laminated glass for their exterior windows. If broken, the shards of laminated glass will adhere to the inter layer, versus shattering outwards. This property is one reason why laminated glass is often used for automobile windshields.
Similarities
Insulated and laminated glass lower energy costs and protects furnishings, decor, appliances and equipment from fading by reducing the amount of solar radiation and UV rays that enter a home or building. Both types of glass also reduce heat loss during the winter, and heat gain during the summer. As a result, insulated and laminated glass provides desirable properties for residential and commercial applications. Both can be glazed or tinted in various colors, and ordered to size specifications in terms of thickness and height.
Differences
Insulated glass is used more often in home applications, and laminated glass is used more for commercial applications. Insulated glass units have spacers in between the glass and use a sealant along the perimeter to adhere the glass together as one solitary unit. Because insulated glass has a gap in between the panes, you can distinguish it from laminated glass. And unlike laminated glass, if insulated glass is broken the shards of glass will fall outward and in between the two layers of glass. Over the years, insulated glass may develop visible condensation in the gap area. This is common in applications such as patio doors. Laminated glass is more commonly used for commercial applications because of its safety properties. Laminated glass also withstands strong winds and weather, and is often a mandatory installation requirement by commercial building code enforcement agencies for use in buildings that serve the public.
---
Cheryl Munson has been writing since 1990, with experience as a writer and creative director in the advertising industry. She holds a Bachelor of Arts in journalism with a focus on advertising from the University of Wisconsin in Madison.