Things You'll Need
Contact cement

Lacquer thinner

Brush or roller

Utility knife

Sandpaper

Rags

Pressure roller or small block of wood

Thin screwdriver

Hammer

Tape measure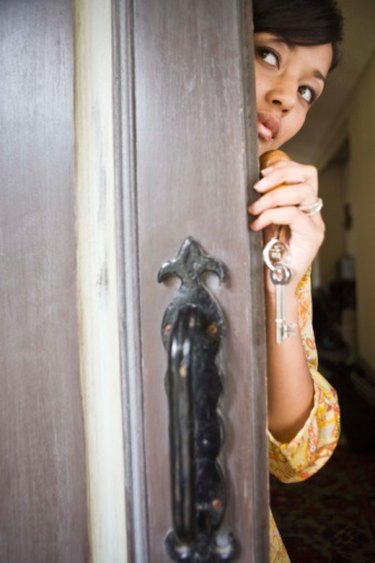 Covering an existing door with a wood veneer can change the look of the door, and an entire room. A wooden veneer is a covering placed on a door to make the surface look like real wood. A homeowner could increase the aesthetic appeal of a boring steel door by placing a mahogany veneer on it, for example, without the expense that goes along with replacing a door. Putting a veneer on a door is also a fairly simple project, completed in a few hours.
Step 1
Prepare the veneer, allowing it to acclimatize in the same environment as the door for at least 48 hours before installation. For example, if applying wooden veneer to a steel exterior door, allow the materials to sit outside.
Step 2
Remove the door from the hinges. Pop the hinge loose, using a thin screwdriver next to the hinge pin, and tap it lightly with a hammer. Once the hinge pin is removed, catch the door before it falls. Place the door in a well-ventilated space to begin the application of the veneer. Clean the door completely, keeping it free of dirt, dust or debris or any bumps that would detract from the look of the veneer.
Step 3
Measure the area of the door with a tape measure. Cut the veneer larger than the door itself with a utility knife, allowing it to wrap around the edges of the door.
Step 4
Stir the contact cement to prepare it for application. Apply the contact cement with a brush to the door and the side of the veneer that will adhere to the door. Carefully place the veneer on the door, applying gentle pressure until the door is covered with the veneer. Use lacquer thinner on any area where contact cement clumps.
Step 5
Smooth the veneer over the surface area, using a pressure roller or block of wood. This helps adhesion and forces out any air bubbles or clumps of contact cement.
Step 6
Trim the veneer to suit the area of the door you wish to be covered, using a utility knife to fit the door. Sand the edges of the door and replace on its hinges.
---
Shauna Zamarripa loves real estate and shares her expertise in her writing. She is a graduate of Almeda College with a B.A. in marketing. As a certified distressed property expert, Zamarripa's specialty is foreclosures and short sales. She writes for various online publications and also runs her own blogs on Homegain and Truila.